Moon Dust Delight with a Brandy Snap Curl
Conor Pope serves up this interestingly named dessert on Celebrity MasterChef Ireland.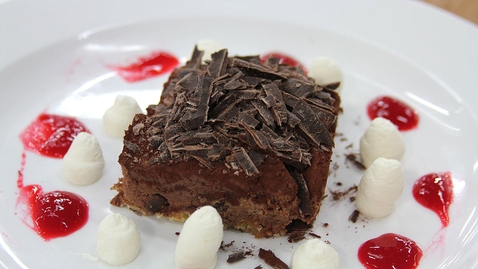 Ingredients
100 g whole hazelnuts
55 g butter
50 g milk chocolate (green and blacks)
2 tsp ground ginger
100 g popping candy
400 g valrhona dark chocolate (70% cocoa)
400 ml double cream
pinch of salt
sprinkle of valrhona cocoa powder
350 g raspberries
8 table spoons of caster sugar
0.25 cup water
teaspoon salt
2 tblsp lemon juice
brandy snap curls:
55 g demerara sugar
55 g golden syrup
50 g plain flour
0.50 level tsp ground ginger
0.50 tsp lemon juice
dash of brandy
Method
Tart base & mousse topping: Roast hazelnuts until lightly coloured in a moderate oven. Keep a close eye on them because they will burn easily. Blend nuts into a paste (a hand blender will be okay for this).
Melt milk chocolate over a bain marie, add the ginger and fold in the blitzed hazelnuts.
Press the mixture into a spring form tin.
Sprinkle layer of popping candy mixture and press into base and place in the fridge to chill and set.
Meanwhile, chop the dark chocolate into very small pieces and place in a bowl. Bring 150ml of double cream to the boil and pour over the chopped chocolate.
Add a pinch of salt.
Whip remaining double cream and once the chocolate cream mix has cooled to room temperature, fold in the lightly whipped cream.
Pour the mousse mix into the tin on top of the popping candy base.
Set for one hour.
Raspberry coulis: Place raspberries, caster sugar, water and salt in a saucepan and simmer over heat until sugar has dissolved.
Blend in a hand blender until smooth. Taste and adjust sweetness if desired.
Strain mixture through a sieve into a bowl. Transfer bowl of puree to fridge and leave until ready to serve.
Brandy snap curls: Place the butter, sugar and syrup into a small, heavy-based pan and stir well to combine. Let the mixture reach a rolling boil. Remove from the heat, allow to cool slightly and then stir in the flour, ginger, brandy and lemon juice.
Leave on a low heat, stirring continuously to remove any lumps. The mixture will become thick. Drop small amounts of the mixture onto a greased baking sheet and bake for 10 minutes at 220 degrees celcius. Remove from the oven when golden brown and leave for 5 minutes to cool. Roll into curls when cooled slightly but still pliable. Leave to cool completely.
To serve: Three very thin slices of the chocolate dessert drizzled with the coulis and sprinkled with cocoa powder and garnished with a brandy snap curl and mint leaf.