Strawberry, Ricotta, Pistashio & White Chocolate Tart
Athlete David Gillick serves up this tart with a poached pear on Celebrity MasterChef Ireland.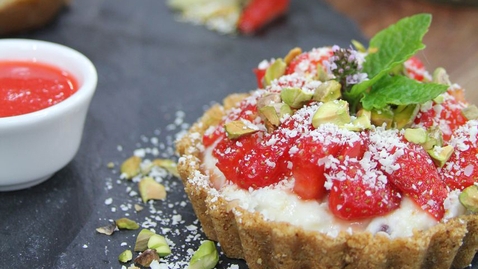 Ingredients
100 g amaretti or biscotti
100 g digestive biscuits
100 g unsalted butter, melted and cooled
500 g fresh ricotta
1 cup icing sugar, plus an extra tablespoon
400 g strawberries, trimmed and halved
1 orange (only require half)
60 g pistachios (not including shells), chopped
80 g white chocolate, half finely chopped, half grated
for the pear:
4 ripe pears
100 g ricotta
0.50 tsp cinnamon
4 tblsp clear honey , plus extra to serve
8 crisp amaretti biscuits
Method
Tart base: Place all biscuits in a large zip-lock bag, seal and crush with rolling pin (or alternatively use a food processor to crush). Transfer to a bowl and mix well with melted butter.
Press into the sides and base of a small loose-bottomed tart tin and press down with the back of a spoon to smooth, then chill for 30 minutes in the fridge.
Finely grate the zest from half the orange (set aside for later), then chop in half and squeeze the juice from half the orange
For the tart filling: Beat ricotta and 1 cup icing sugar until smooth, then fold in juice of half the orange, the half of the white chocolate that has been finely chopped, and half of the chopped pistachios.
Spoon into chilled tart and then chill.
Half an hour before serving, mix the strawberries with a tablespoon of icing sugar and zest from half the orange.
Allow strawberries to stand for 30 minutes.
Pile the strawberry mixture onto the tart, top with the grated white chocolate, then pistachios.
For the Pear: Cut each pear in half, then place on a large baking tray.
Use a teaspoon to scoop out the cores and make a dip in the centre of each pear. If your pears are firm, you may need to use a sharp knife to do this.
Dollop about 1 heaped tsp ricotta into each dip, then sprinkle over the cinnamon and drizzle with a little honey.
Heat oven to 190C/fan 170C/gas 5, then roast the pears for 10 mins. Tip the biscuits into a food bag and use a rolling pin to lightly crush them.
Remove the pears from the oven, then scatter the crumbs over each pear. Return to the oven for another 10 mins or until the pears are soft and the biscuit golden brown. Serve drizzled with honey.
To serve: Place the tart and pear on a serving platter.
Notes:
Equipment needed: Food processor, Bowl, Grater, Rectangular (approximately 35x12mm) loose-bottomed tart pan, 2 Zip lock bags, Rolling pin, Electric whisk