Vienetta with Salt Caramel Shards
Maia Dunphy serves up Vienetta on Celebrity MasterChef Ireland.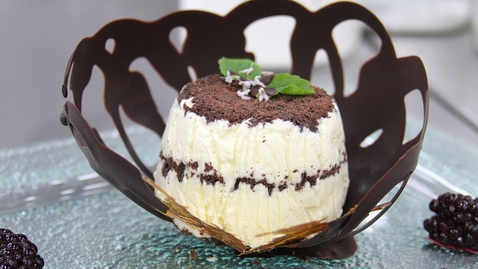 Ingredients
semi-freddo mix:
500 ml double cream
150 g castor sugar
3 eggs
1 vanilla pod
200 g bar plain chocolate
fresh mint leaves
salt caramel:
200 g sugar
1 tsp sea salt
blackberries:
5/6 blackberries
3 tblsp crème de cassis
1 tblsp sugar
sauce:
100 g dark chocolate (70%)
100 ml double cream
piping bag
chocolate basket:
75 g dark chocolate
Method
Semi freddo: Scrape out pod seeds from vanilla pod. Separate the eggs. Whisk egg yolks and sugar together using a hand held whisk or food mixer with whisk attachment.
Whip the cream. Whisk egg whites in a clean bowl with a hand whisk or food mixer with whisk attachment. Fold cream into the whisked egg yolks.
Fold the whisked egg white into the mixture. Line a medium sized muffin tin with cling film.
Sprinkle third of the chopped chocolate into the base of the individual muffin tins. Pour half of the semi-freddo mix on top of the chocolate – to replicate the appearance of a Vienetta.
Alternate the remaining chocolate and the semi-freddo mix in layers and add a final layer of chocolate to the top. Freeze until set
Salt caramel: Melt sugar with small amount of water in a clean saucepan. Pour on to baking sheet and tip to spread. Sprinkle with salt. Leave to set.
Blackberries in Cassis: Heat the fruit, crème de cassis and sugar in a saucepan. Take out the blackberries and reduce to a syrup. Serve fruit on the side of the dish with syrup.
Chocolate basket: Melt the remaining chocolate in a bowl over a saucepan of simmering water. Blow up balloon to the size you would like your bowl to be. Allow the chocolate to cool down before you drizzle onto the balloon or it may burst. Using a spoon, drizzle the chocolate onto the balloon in an overlapping manner – the finished bowl will be have holes in it. Leave to set and pop balloon.
To serve: Place one mini vienetta in a chocolate basket. Sprinkle with the caramel shards. Serve the blackberries on the side with the syrup.
Notes:
Equipment needed: Very clean saucepan or frying pan for caramel, Baking tray and baking paper, Saucepan and bowl that fits over it for melting chocolate, Mixing bowl x 3, Metal whisk, Electric whisk (or similar for whisking egg whites), Muffin tin, cling film (extra wide catering type), Balloon