Roquefort and Honey Ice cream
Tracy Piggott serves up Roquefort and honey Ice cream, with caramelized pears, honey cream sauce, apple glaze and parmesan shortbread crisp on MasterChef Ireland.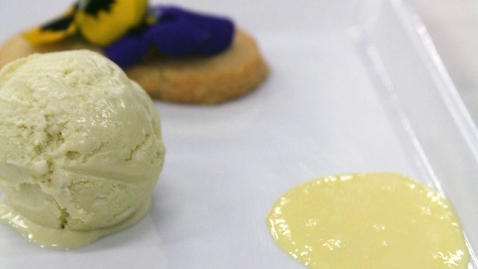 Ingredients
ice cream:
6 tblsp (120 gram) honey
4 oz (110 gram) roquefort
1 cup (250 ml) heavy cream
1 cup (250 ml) whole milk
4 large egg yolks
a few turns freshly-ground black pepper
caramelised pears & honey cream sauce
1 lb pears pared and sliced
2 oz butter
honey
1 pint milk
1 tblsp lemon juice
4 egg yolks
1 kilo of brown cane sugar
apple glaze
2 cox's apples
4 oz brown sugar
2 tblsp water
parmesan shortbread crisp:
150 g plain flour
75 g grated parmesan
100 g soft unsalted butter
1 large egg yolk
Method
Apple Glaze: Grate the apple into a small saucepan, add sugar and water and reduce to a sticky glaze.
Roquefort and Honey Ice cream: In a small saucepan warm the honey, then set aside.
Crumble the Roquefort into a large bowl. Set a mesh strainer over the top. In a medium saucepan, warm the milk.
In a separate bowl, whisk together the egg yolks. Slowly pour the warm milk into the egg yolks, whisking constantly.
Scrape the warmed egg yolks back into the saucepan.
Over medium heat, stir the mixture constantly with a wooden spoon or heatproof spatula, scraping the bottom as you stir, until the mixture thickens and coats the spoon.
Pour the custard through the strainer and stir it into the cheese. Stir until most of the cheese is melted (some small bits are fine, and rather nice in the finished ice cream.) Stir in the cream and the honey, and add a few turns of black pepper.
Chill custard thoroughly and then freeze in your ice cream maker according to the manufacturer's instructions.
Caramelised Pears & honey cream sauce: Saute Pears in butter until coated. Add honey, lemon juice cook until pears tender. Combine milk and remaining honey, bring to simmer.
Add milk mixture to yolks and mix well. Return to warm milk mixture, cook and stir until sauce thickens - approx 2mins. Do not boil
Parmesan Shortbread Crisp: Mix all ingredients together until dough forms a clump.
Turn onto a floured surface and knead for 30 seconds until smooth. Divide in 2. Roll dough into cylinder about 11/4 inches in diameter. Make ends flat.
Wrap in cling film and place in fridge for 20- 30 mins. Preheat oven to 350f.
Cut dough into half inch thick cylinders and place on baking sheet with grease proof paper.
Cook for 15/20 mins, until golden at edges. Remove and cool.
To serve: Plate all of the elements on a large white flat plate.
Notes:
Equipment required: Small saucepan, Medium Saucepan x2, Large bowl x2, Mesh strainer, Whisk for eggs/ separate bowl – mixer, Wooden spoon, Ice cream maker, Measuring jug, Cling film, Grease proof paper, Baking tray/ sheet