Stained glass open ravioli with langoustine
Served with a lemongrass and chervil veloute and a parmesan and truffle crisp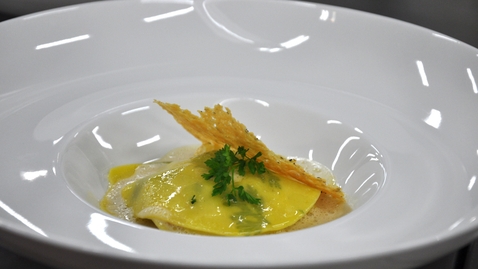 Ingredients
Ravioli
1 kg langoustine (large)
300 g chanterrelles
250 g '00' flour
60 g egg yolks
55 g water
1 tblsp olive oil
1 sachet saffron powder
1 lemon
mix of fresh herbs 10 of each (chervil, parsley, coriander, sage, fennel top)
pinch of salt
Lemongrass chervil velouté
1 shallot, peeled and sliced
0.50 tsp white peppercorns
0.50 tsp coriander seeds
1 head garlic
1 bay leave
1 celery
1 onion
2 sprigs of thyme
2 lemongrass stalks
125 ml dry vermouth
500 ml fish stock
250 ml double cream
50 g butter
olive oil
salt and pepper
bunch of chervil, leaves picked, chopped
Parmesan crisp
100 g freshly grated parmesan
1 truffle
Method
To make ravioli, mix flour, yolks, water, oil, saffron in food processor mix until form the dough wrap in cling film rest for 30 min. Then roll out to thin sheet. Sprinkle half of pasta sheet with a large handful of herbs; fold the sheet over, sandwiching the herbs between the pasta and run through pasta machine again, cut out 12cm rounds with a pastry cutter.
To make veloute, put shallot, peppercorns, coriander seeds, garlic, bay leaf, thyme, lemongrass and vermouth in a saucepan and bring to the boil. Let bubble until the liquid has reduced down to a syrupy glaze, add the stock and boil to reduce by half. Add the cream and simmer until the sauce has reduced to a coating consistency. Taste and adjust the seasoning. Strain the sauce through a fine sieve into a bowl. Just before serving reheat and stir in the chopped chervil.
Heat frying pan adds in a few knob of butter and chopped garlic adds in peeled langoustine and mushroom sauté for few minutes then transfer into veloute.
To make parmesan crisp, preheat the grill to high. Heat a small non stick frying pan until hot. Scatter a heaped tablespoon of parmesan in the pan to form an even layer, and then sprinkle with grated truffle. When the sides begin to turn golden, flash the pan under the grill for few seconds until the top is evenly golden. Remove the pan from the grill and leave the parmesan to firm up for about 30 seconds. Carefully peel the parmesan crisp off the pan and transfer to a tray to cool.
To serve cook ravioli in salted boiling water for 2 minutes drain and toss in melted butter. 6.To assemble, place a round of pasta on each warmed plate. Add a layer of veloute then another pasta round. Repeat these layers, then top with parmesan crisp.