Blow-torched fresh Madagascar prawn folded around crispy soya skin
Tamarin's MasterChef Ireland dish, served scented with bacon, sesame, orange, ginger, coriander and lime and rested in Miso mayonnaise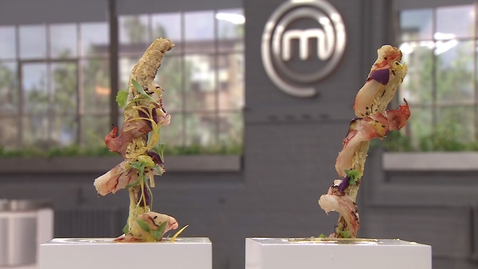 Ingredients
madagascar prawns – deshelled and deveined (2 per portion)
Orange purée
5 oranges
300 g caster sugar
Red miso mayonnaise
3 egg yolks
90 g red miso paste
40 g fresh lime juice
24 g sugar
10 g water
2 g maldon salt
pinch cayenne pepper
200 g rapeseed oil
Soya skin
6 l soya bean milk
pinch smoked bacon powder
maldon salt
Garnishes
white sesame seeds
black sesame seeds
confit ginger
pink pickled ginger
lime juice & zest
coriander cress
orange peel of 2 oranges and 200 ml sugar syrup
purple sorrel
Method
Prawns
Deshell and devein. Prep prawns by butterflying them – slice in half without cutting through the tail. Make an incision halfway down the butterflied half. Wrap 2 butterflied prawns around dehydrated soya skin. Set aside until needed.
Garnishes
Confit Ginger – Slice thinly on Mandolin and julienne.
Pink Pickled Ginger – Cut into diamonds; 4/5 per portion.
Lime Zest – Grate finely on a fine microplane over prawn stick – only when ready to plate up.
Orange peel – Julienne orange peel and blanch five times in cold water (bringing to boil again). Add to 200mla of sugar syrup and reduce down.
Purple Sorrel – Sliced
Miso Mayonnaise
Place 3 egg yolks with red miso (1 tbsp initially and then add more to the taste you require) fresh lime juice, sugar, water, salt and cayenne pepper in Kitchen Aid and whip together.
lowly add the 200g of rapeseed oil – initially drip by drip and once emulsion is made steadying to a slow stream, to ensure that it does not split. Add a little fresh lime zest to mayo and pop in bowl and into fridge until chilled.
Orange purée
Finely slice oranges with skin on, removing all seeds and getting an even ratio of zest to flesh. Blanch - in cold water, bringing to the boil – repeat 5 times. Cook blanched oranges with sugar in 1 litre of water and reduce quickly over a high heat until ¼ of volume is left.
Reserve the sugar syrup. Blitz oranges in blender. Use some of the reserved sugar syrup to get the right consistency. When it's done, place in small piping bag in fridge and set aside until plating.
Soya skin
Set induction stove to 95C. Heat soya milk in large pot on induction stove very gently. When reaches that temperature, keep warm for 15 minutes. Take off skin and place carefully on dehydrater tray and with a sharp knife cut skin in half lengthwise.
Sprinkle with pinch smoked bacon powder and a tiny pinch of salt, fold one side towards middle and fold length over again to end. Place in preheated dehydrator set to 57C for 2 ½ hours.
Plating up
Wrap 2 butterflied prawns around dehydrated soya skin. Cook prawn on griddle top with a small amount of olive oil for 2 minutes, whilst blowtorching the topside to achieve a golden brown colour. Halfway through make sure turn over and do same on opposite side. Season with salt and pop in oven for two minutes.
Place teaspoon of red miso mayonnaise in bottom of glass cup.
Garnish prawn with lime zest, confit ginger, diamonds of pink pickled ginger. Sprinkle with pinch of white sesame seeds and black sesame seeds. Dot orange puree along the prawn and place the coriander cress on top of orange puree dots. Add purple sorrel. Only at that stage do you place prawn vertically into cup.