Foie Gras poached in sauternes with artichoke, coco bean, dried Iberico ham and grapes poached in vanilla
Terry Lyons' dish from MasterChef Ireland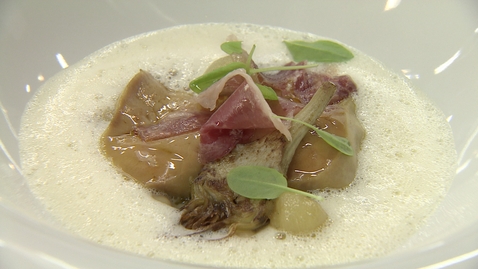 Ingredients
Foie Gras
4 lobes of foie gras
2 bottles of sauternes
4 kg rock salt
Coco beans
300 g coco beans
2 l chicken stock
piece of iberico ham with fat
1 shallot
1 carrot
sprigs of thyme
2 cloves of garlic
Grapes
16 peeled green seedless grapes
100 ml stock syrup (premade)
180 sauternes
1 vanilla pod
Artichoke greque
1.60 l water
2 bay leaves
10 peppercorns
1 sprig of rosemary
1 sprig of thyme
180 g caster sugar
15 g maldon salt
350 g white wine vinegar
400 g olive oil
Large artichoke
1 peeled large artichoke
2 ladles of greque
1 lemon
pinch thyme and rosemary
olive oil
small artichoke
8 small artichokes
3 ladles of greque
pinch thyme and rosemary
olive oil
Artichoke sauce
600 g artichoke
75 g salted butter
juice of two lemons
sprig thyme
90 g caster sugar
20 g maldon salt
250 g sauterne wine
600 g chicken stock
500 g cream
100 g greque
5 g leicithin
thin slices of iberico ham
thick slice of iberico ham
45 g onion confit
200 ml cream
cooked coco beans (already made earlier- 15 beans per portion)
chicken stock/cooking liquor
picked rosemary
sorrel
Method
Foie Gras
Marinade the really cold foie gras in the salt for six hours, place a layer of salt in bottom of container and then completely covering foie gras and place in fridge.
When foie gras is marinated, brush off salt and place foie gras in vacuum pack bag and cover with sauternes. Seal in vac pack 2.5 and welding at 20. Poach in waterbath at 59C for 25 minutes.
Remove from heat and leave in vac pac bag to marinade further and cool down.
Artichoke sauce
Blitz artichoke small in thermomix until even sized pieces. Remove and add to saucepan with melted butter and add the lemon juice and thyme, sugar and salt and cook over a medium heat until soft.
Add the sauterne wine and bring to boil. Simmer for 3-4 mins and then add chicken stock and cream. Bring to boil again, add leicithin and add to thermomix and blitz until semi-smooth. Pass through a chinnoise.
Add greque, raw sauternes, leicithin and seasoning to taste. Consistency must be light enough to froth. Chill pot in bowl of ice water.
Grapes
Place grapes in boiling water to remove skins. Put all ingredients in vac pack bag, seal at 2.5 and weld at 20 seconds. Cook in preheated waterbath at 59C for 12 minutes. Take out bag and let cool naturally, retaining poaching liquor/syrup. Set aside until needed.
Small artichokes
Peel and slice 8 artichokes – peel off leaves. Take peeler and remove any green around stalk and flower. Rub with lemon and pop into lemon water. Cook the sliced and peeled baby artichokes in 4 ladles of the greque.
Add a dash of olive oil if needed. Place baby artichokes in vac pac bag with greque and herbs. Cook in waterbath at 89C between 45 mins and 1hr 15mins, checking again after 50 minutes. Place bag in iced water until needed.
Artichokes
For the greque, place everything together in a pot and bring to the boil and set aside to cool.
For the large artichoke, cut into choke. Cut down middle. Trim off leaves. Peel off any green bits. Rub lemon all over to stop it oxidising. Pop into lemon water. Remove heart. Place large artichoke in vac pac bag with greque and herbs. Add a dash of olive oil to bag if needed. Cook in waterbath at 89C between 45 mins and 1hr 15mins, checking after 50 minutes. Place bag in ice water until needed.
Coco beans
Put all ingredients together into pot and bring to the boil. Cook gently on a simmer, skimming any impurities off continuously until beans are cooked (al dente). Cool in the liquid and then season.
Final plating
Dice some Iberico ham, fry in pan with a little oil. Add in cooked coco beans and 100mls of cooking liquor. Add a spoonful of confit of onion and a few spoonfuls of artichoke sauce. Add a dash of cream if needed. Finish with picked rosemary.
Slice the Foie Gras into ½ cm slices. Keep warm in oven and blowtorch warm on the plate before serving. Fry your artichokes separately – cook until golden and add a pinch of salt to season. Warm your grapes in a little of the poaching liquid from vac pac.
Place thin slices of Iberico ham on plate. Place coco bean & Iberico ham mix on plate. Arrange grapes, artichoke and foie gras.
Warm up artichoke broth and froth up. Spoon on frothed artichoke sauce and garnish with sorrel.