Frozen Irish raspberry meringue with tapioca, goats milk, pistachio and red pepper
Nicha's dessert from MasterChef Ireland, flavoured with the aroma of lavender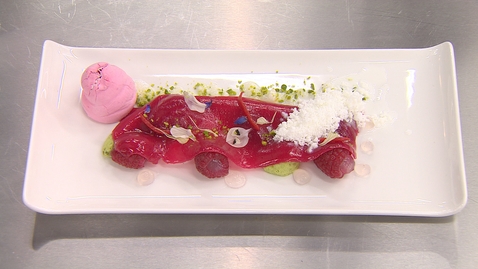 Ingredients
Tinkerbell peppers
8 tinkerbell peppers
400 g vanilla syrup
100 g red pepper juice
6 g citric acid
Pistachio mousse
240 g double cream
45 g pistachio paste
50 g crushed pistachios
1 tsp sugar
Raspberry jelly and purée
500 g raspberry purée
5 leaves gelatine
50 g sugar syrup
1 kg fresh raspberries
100 g caster sugar
Raspberry jelly sheets
750 g raspberry purée (made earlier)
200 g vanilla syrup
7 leaves of gelatin
Caramel crisp
250 g fondant
30 g glucose
30 g salted peanuts
pinch salt
finely crushed pistachios
Goat milk snow
500 g goat's milk
75 g vanilla syrup
35 g goat's cheese
caster sugar (to taste)
Goat milk tapioca
1150 g goat's milk (large amount 1 kilo 150g)
200 g caster sugar
1 vanilla pod
230 g small tapioca pearls
150 g goat's milk (small amount)
Lavender gel
300 ml water
pinch lavender
7 g agar agar
2 g salt
35 g sugar
1 g citric acid
squeeze of lemon juice
Method
Tinkerbell peppers
Char skins on peppers with blowtorch. Place immediately into bowl of iced water. Peel skins off.
Divide peppers into two Vac Pac bags with 1 vanilla pod in each bag.
Make mix of Vanilla syrup and red pepper juice and citric acid in a bowl, stir together and divide liquid between vac pac bags. Welding 2.5 Sealing 16 seconds. Place in preheated waterbath at 59C for 30 minutes. Refresh by placing bag straight into iced water. Slice finely before plating up.
Caramel crisp
Place glucose and fondant in saucepan over a medium heat until it becomes caramelised. Add salted peanuts and pour onto silicon sheet to cool. Once cool, blitz in Thermomix to form a fine dust. Sieve with small tea strainer onto parchment-covered tray. Sprinkle with crushed pistachios and place in oven with door open for one minute.
After thirty seconds turn the tray around until it starts to bubble. Remove from oven and using a scissors, pull pieces from the parchment to form crisps. Place on another sheet of parchment paper shiny side down until plating.
Jelly sheets
Take 7 leaves of gelatin and bloom it in cold water. Take raspberry puree (approx. 750g) and add 200g of vanilla syrup. Warm one quarter of the raspberry and vanilla mixture in pot over low heat and add bloomed gelatin until dissolved. Place back into the rest of the raspberry and vanilla liquid and put in fridge to cool.
Place glass plates in freezer to chill. Line a square glass plate with layered clingfilm making sure that there are no air bubbles – wet plate first to help clingfilm stick. Take 5-6 spoons of raspberry jelly liquid and pour onto plate, smoothing out to all the corners ensuring that there are no air bubbles in mixture. Place in freezer on flat surface for 40 minutes.
Using the leftover raspberry jelly liquid, place into an ISI Gas Canister. Charge with two gas bulbs and reserve in the fridge until needed.
Goat milk snow
Place all ingredients together in saucepan and bring up to temperature. Put into Thermomix and mix until smooth. Pass through a fine chinnoise and place liquid in liquid in fridge to cool. When cool, place liquid in a spray bottle.
Place liquid nitrogen into deep saucepan and spray solution into liquid nitrogen.
Scoop 'snow' out with small sieve and place into round Paco jet metal container and keep in freezer until plating.
Tapioca
Place the Large Amount of Goat's Milk, caster sugar, tapioca and split vanilla pod and seeds in saucepan and bring to the boil and reduce over a medium heat. Stir occasionally to stop from sticking. Cook for 20-25 minutes. Watch to ensure it doesn't overcook. Reduce heat if needed.
When cooked, place in glass bowl and add the Small Amount (150g) Goat's milk and stir in. Cover with clingfilm and set aside until later.
Lavender gel
Put lavender, water, salt, sugar and citric acid together in saucepan and bring to the boil. Add agar agar. Strain in a fine chinnoise and whisk. Add more sugar to taste if necessary and a squeeze of lemon.
Leave to infuse for 10-15 minutes before putting in to chill in fridge in bowl. Keep in fridge until plating. Put in squeezy bottle just before plating up.
Raspberry jelly
Bloom gelatin in cold water. Heat half raspberry puree and add gelatine. Add gelatine mix back into rest of raspberry and sugar syrup. Put into plastic container and leave to set in the fridge.
For the purée, blitz raspberries and sugar together in Thermomix/Blender until smooth. Pass through a fine Chinnoise. Reserve in fridge until needed.
Pistachio mousse
Warm cream and pistachio paste together in a saucepan on low heat until pistachio paste is dissolved. Place in a bowl in icebath and place in the fridge until cold.
When cool, put mixture in Kitchen Aid and whisk to a firm peak. Fold through the chopped pistachios and add a tsp of sugar and place mixture in piping bag. Put mix in fridge.
Final plating
For the borage flowers, get vapouriser and set temperature to 3. Seal vac pac bags and blow lavender into lavender into bags to form lavender pillows.
Place raspberries on plate and fill with lavender gel. Add plain fresh raspberries also.
Pipe on a line of mousse and spoon dots of goats milk tapioca onto plate.
Place the raspberry spoon jelly onto plate.
Add sheet of raspberry jelly to sit on top of raspberries.
Place little red pepper strips on top.
Spoon more tapioca down one side of plate and add small dots of lavender gel around plate.
Sprinkle crushed pistachios around plate.
Add borage leaves on top and add a little more crushed pistachio, before adding your caramel crisp.
In the final minute, prepare the frozen raspberry meringue. Foam ISI container jelly onto spoon and into a pan of liquid nitrogen, which forms the frozen meringue. Add your frozen meringue to side of plate.
Take goat's milk snow from freezer and spoon onto side of plate.
Take lavender pillow and stick pinholes in it before placing in pillowcase and placing dessert plate on top.
Serve immediately.