Treacle pudding with toasted hazelnuts
Served with blackberry and basil soup and honey and lemon ice-cream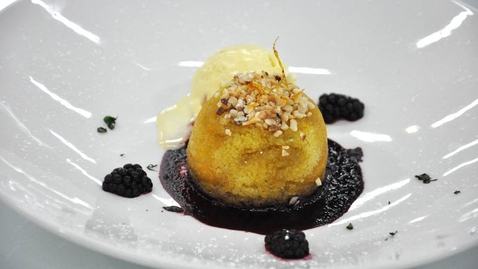 Ingredients
20 g blackberries
5 ml juice
15 g caster sugar
2 basil leaves
50 g self raising flour
50 g butter
50 g caster sugar
zest small orange
1 egg
teaspoon whiskey
1 ½ tablespoons golden syrup
tea spoon toasted hazelnuts chopped
sugar chards - 25 g caster sugar
ice –cream
honey 2 tablespoons
1.50 tsp lemon extract
2 tblsp preserved lemons
Method
Butter dariole mould and add 1½ tablespoons of golden syrup.
add sponge mix- 50g butter, 50g self raising flour, 50g caster sugar,
Zest 1 small orange add a pinch of salt and one egg, combine all ingredients.
Add mixture to dariole mould till ¾ full cover top with tin foil.
Cook for 17 minutes at 190°C.
Turn out on plate, drizzle with whiskey and sprinkle chopped hazelnuts on top.
Ice-cream
Ice-cream – As per base recipe for Murphy's Ice Cream Challenge with the addition of 1 ½ tablespoons of lemon essence and 2 tablespoons of chopped preserved lemons and 2 tablespoons runny honey.
Serve scoop on side.
Blackberry soup
Heat blackberries with tablespoon water, caster sugar, lime juice and allow juice to be released.
Strain and sprinkle with chopped basil.
Pour around treacle pudding and garnish with a few halved blackberries.
Sugar shards
Heat caster sugar in pan till golden, cool on parchment and break into chards for garnish.