Passionfruit tart with lime and basil sorbet
Jacinta's dish from the ice-cream and sorbet flavour challenge on MasterChef Ireland 2012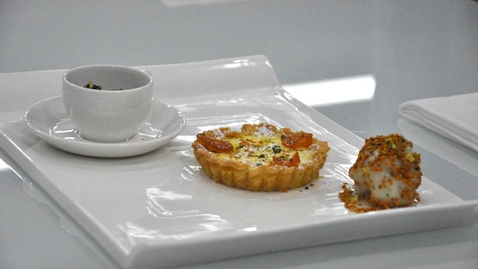 Ingredients
Sorbet
500 ml water
310 g caster sugar
1 tblsp lime juice
1 tsp lime zest
5 leaves of basil chopped
Pastry
100 g plain flour
60 g butter (cold and cubed)
20 g icing sugar
1 egg yolk
Filling
2 eggs
60 g caster sugar
2.50 passion fruits juiced
0.50 a lemon zest and juice
80 ml double cream
Garnish
4 raspberries
2 tblsp melted dark chocolate
0.50 tsp chinese spices
0.50 tsp chopped pistachios
small knob butter
bee pollen granules
Method
Pre-heat oven to 180°C.
Sorbet
First make sorbet as it takes a long time to set.
Put water and sugar into saucepan and leave for 5 minutes to dissolve.
Then put on medium heat and turn into syrup. Place in freezer till 5°C. Then pour into ice-cream. Churn and pour in juice and zest of limes and basil chopped.
Turn on and when made freeze for serving.
Pastry
Sieve flour and sugar into bowl. Rub in butter and bring together with one egg yolk.
Wrap in cling film and place in fridge for 20 minutes. Meanwhile butter the tart tins, roll out pastry (when ready) to 3mm deep and line tins with pastry.
Cover with greaseproof and baking beans. Blind bake for 25 minutes. Remove greaseproof and baking beans and bake for 5 more minutes.
Then take out and cool a little.
Turn down oven to 120°C.
Filling
In mixer place 2 egg and sugar- mix for approx. 8 minutes till light and frothy. Add zest and juice from lemon and passion fruit. Mix for 5 minutes and then add double cream and mix for 5 minutes.
Pour into tart cases and put into oven for 20 minutes.
Take out and cool.
Garnish
In a bowl over a saucepan of gently simmering water melt some 70% chocolate
Add spices and butter.
Roll raspberries in chocolate and when a little cool, sprinkle chopped pistachios over raspberries
Plating up
Scoop out a ball of sorbet and roll them in the bee pollen
Arrange as desired and serve.