Plum Tart, plum purée and star anise and cinnamon ice cream
A dessert from Sinéad Considine during MasterChef Ireland 2012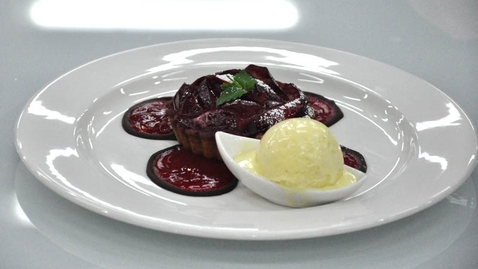 Ingredients
12 plums
150 g sugar
300 ml water
dark chocolate
Pastry
330 g flour
100 g icing sugar
180 g butter
1 egg yolk
2 tblsp water
Frangipane
75 g butter
75 g caster sugar
75 g ground almonds
1 large egg
Ice-cream
6 egg yolks
200 ml milk
200 ml cream
2 star anise
2 sticks cinnamon
Method
Ice-cream
Pour milk into saucepan and 2 tbsp sugar. Add star anise, cinnamon and heat over gentle heat.
Beat the eggs and remaining sugar together in bowl and as soon as milk creeps up the side of the pan, remove from heat and take out cinnamon and star anise and pour slowly into egg mixture whisking continuously.
Place mixture back in pan and stir over low heat until custard thickens. Drain through sieve and cool to 7°C. Pour the cold custard into ice-cream maker and add the cream, churn until almost frozen, place in freezer until set.
Pastry
Sift flour and salt into a bowl and stir in the sugar. Put into a food processor along with butter and mix until mixture becomes crumbs. Add the egg and the water and combine until mixture comes together. Take out, wrap in cling film and store in fridge for at lest an hour.
Frangipane
Beat butter and sugar together in food processor until creamy. Incorporate the egg and ground almonds, cover with cling film and set aside.
Stock syrup
Place 150g sugar and 300ml water in a pot and bring to the boil. Simmer for about 5 mins and allow to cool.
Finishing up
Cut plums into wedges, place into pot with stock syrup and gently poach for 8 mins. Take half out and leave aside, and poach the remainder for a further 7 mins. Take them out and place in a blender with 2-3 spoons of stock syrup and blend until smooth and puree through a sieve. Put puree in a squeezy bottle
Cut 3 plums into wedges and cook them on a pan with caster sugar
Cook until soft
Bend and put aside
Take pastry out of fridge and roll into circles and put into tart case
Place in pre-heated oven at 180°C
When pastry is nearly ready, take out and put a spoonful of frangipane inside the tart and put back in oven for about 8 minutes
Melt chocolate in a bowl over pot with simmering heat, put in squeezy bottle and draw a design on plate and fill in with squeezy puree.
Put purée of the fried plums on top of the tart and gently place plum wedges in circles on top
Put tart on top of design on plate
Place ice-cream on side