Chocolate and raspberry tart
Served with raspberry jellies, vanilla ice-cream and a pecan crumb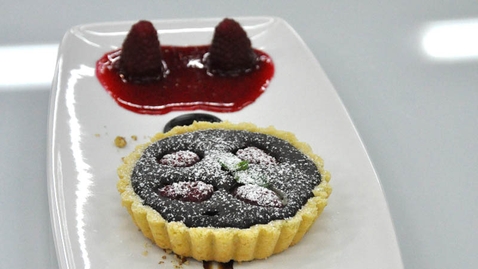 Ingredients
Raspberry chocolate tart
250 g flour
125 g butter
pinch salt
1 tblsp caster sugar
250 g chocolate
1 egg
250 ml double cream
1 egg
2 egg yolks
45 g butter
Raspbery jellies
200 g raspberries
50 g caster sugar
1 leaf gelatine
Vanilla ice-cream
200 ml milk
5 egg yolks
1 vanilla pod
150 g caster sugar
250 ml double cream
Pecan crumb
Method
Combine the flour, butter, sugar and salt in a blender until it forms breadcrumbs. Add one egg and blend. Place on worktop and form a ball. Wrap cling film and chill in the fridge for 30 minutes.
Heat the double cream. Add the chocolate to melt. Take off heat. Whisk in eggs and fold in butter.
Roll the pastry and put in mini tartlets. Blind bake for 10 minutes @ 190°C, brush with milk and bake for another 5 minutes. Fill with chocolate mix, add 4 half raspberries and cool at 140°C for 8 more minutes.
Cook raspberries and sugar until coulis is formed. Sieve and retain juices. Add 1 leaf of pre-soaked gelatine and mix. Put in mini muffin tin. Place a raspberry in centre and chill for 1 hour in the fridge.
Put pecans in oven and bake at 190°C until browned. Remove and crush to a coarse crumb.
For the ice-cream, heat milk. Beat the egg yolks and sugar together. Add the warm milk to egg mix. Return to heat until it thickens. Put in cool jug and cool to 5°c. Add in double cream and pour into ice-cream machine for 10 minutes. Chill in freezer until ready to serve.