Hake and tomato pasta with sweet potato crisps
Sinéad's childhood inspired dish from MasterChef Ireland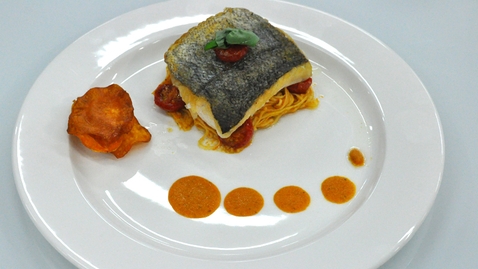 Ingredients
2 eggs
200 g italian pasta flour
hake fillet
sweet potatoes – to make crisps
tomatoes
garlic
shallots
basil
olive oil
a few baby tomatoes
Method
To make the pasta, put flour, eggs and oil into food processor with pasta attachment and process until nice and smooth. Cover with clingfilm and put in fridge.
Slice potatoes with mandolin and lay in tray between baking parchment, coat the potatoes with clarified butter, then bake for 1hr 15 until crisp at 120 °C.
Half baby tomatoes and toss them with olive oil and salt and roast in oven at 120°C for 1 hour.
To make crisps - Slice potatoes very thinly with mandolin and fry them in hot oil until crisp.
Sweat onions and garlic in a pan with a little olive oil until soft, season and add the tomatoes and cook for about 20mins. Place in blender with basil and blend.
Roll out pasta and put through a pasta machine making spaghetti.
Fry hake skin side down for 2 mins until skin starts to brown, place in oven at 180°C for 5 mins
While hake is in oven, cook the pasta for two minutes in boiling water, drain and mix with the tomato sauce
To plate, put the pasta in a roll in the centre and the hake skin side up on top. Scatter a few of the oven roasted tomatoes around the plate and a few crisps on top of the hake.