Orange and chocolate tart with white chocolate custard
Served with raspberry coulis and passion fruit coulis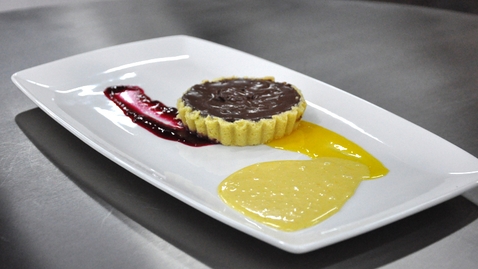 Ingredients
75 g flour
25 g icing sugar
30 g butter
150 g dark orange chocolate
75 g white chocolate
150g raspberries
3 passion fruit
3 egg yolks
45 g caster sugar
Method
Combine flour and butter and mix with hand until breadcrumb size. Add 1 egg yolk with combined. Chill for 30 minutes. Place in pastry tin and cook for 10 minutes.
Melt dark chocolate in a Bain Marie. Once melted pour in boiling cream in 3 stages.
Once incorporated whisk in 3 tsp of chilled butter. Pour into the pastry case and refrigerate until set.
Custard
Place 50g sugar and 2 egg yolks in a Bain Marie.
Whisk until thick and creamy
Add melted white chocolate and 3 tbsp cream- incorporate and chill.
Coulis
Place raspberries in a saucepan with 40g sugar heat until bubbling and reduce. Strain
Place passion fruit seeds and pulp in a saucepan with 40g sugar
Heat until bubbling, strain and reduce to a syrup