Steak, celeriac mash and red wine onions
From episode three of MasterChef Ireland 2012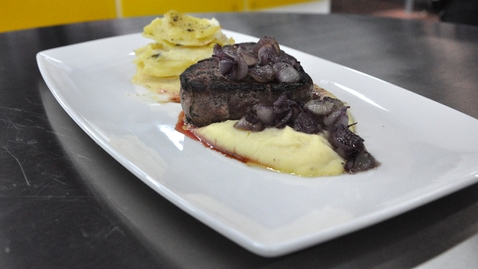 Ingredients
1 large potato
1 medium celeriac
1 small parsnip
10 baby white onions
1 fillet steak
bunch of thyme
bunch of rosemary
double cream
butter
chicken stock
1/4 glass of red wine
Method
Slice potato, celeriac and parsnip. Layer with seasoning into shallow oven dish. Pour in chicken stock over it. Bake 200°C oven for 1 hour.
Meanwhile soften 1 tablespoon of butter in saucepan. Then add chopped celeriac chunks and parsnip and onion. Soften, then add 50mls double cream. Simmer 20 mins till soft. Purèe.
Rub steaks with herbs, salt, pepper and oil and then melt a little butter in a hot pan. Then sear steaks 1 minute either side. Rest steak.
Fry off white onions and add the quarter glass of red wine to flavour.
Season and serve.