Pan roasted Moroccan spiced quail
Served with carrot & fennel citrus salad, red onion and coriander flat bread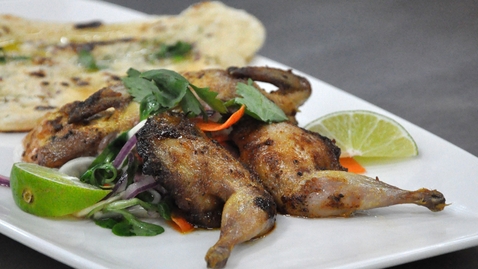 Ingredients
Spices for quail
black pepper
1 tsp ground cumin
1 tsp ground coriander
1 tsp ground turmeric
1 tsp ground cayenne pepper
1 tsp ground ginger
pinch of salt
1 clove of garlic
1 chilli
For the salad
carrot (shaved)
coriander
fennel
lambs lettuce
red onion
chilli
honey and lemon vinaigrette.
quail
100 g self raising flour
100 g natural yoghurt
salt
onion
coriander
olive oil
Method
Quail pan fried skin down and then finished in oven at 180°C for 8-10minutes
Take your Self raising flour and natural yoghurt (100g each) and mix together to form dough. Season with salt and add your finely diced onion.
Fried in dry pan 2-3 mins turning once.
Sprinkle with Coriander and olive oil to finish.
Combine your salad ingredients and dress with honey and lemon vinaigrette.