Chauteabriand with colcannon
Served with fat chips, pancetta and cabbage with a beef stock reduction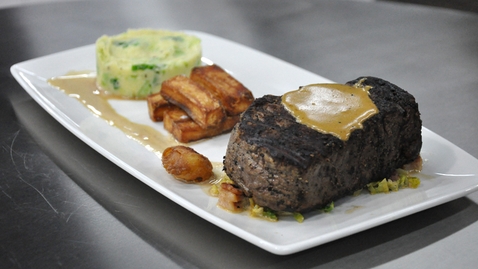 Ingredients
chauteabriand
2 potatoes
lard
bacon
cabbage
2 eggs
1 onion
6 baby onions
Method
Peel the potatoes. Make the fat chips from one and boil the other to make mashed potato
Crush some whole black peppercorns and coat the beef with these.
Parboil the potatoes and put the other potato on to boil, next cut up the bacon and cabbage into small pieces. Then drain the chips and allow to cool in kitchen paper
Heat up some beef dripping in a pan.
Blanch some cabbage into the mashed potatoes and also slice some spring onion
Seal the meat in a griddle on all sides and put into to oven to cook.
Deep fry the chips until golden brown and cook all the way through
Fry off the pancetta until crispy and add the cabbage and a little cream
Mash the potatoes with some butter and cream and add the par-cooked cabbage and scallions
Take the meat out from oven and let rest.
In the same pan, reduce some beef stock and add some cream along with beurre manié to allow to thicken.
Serve.