Corned Beef Hash
Served with a Medley of Cabbage, Potato Croquette, Quails egg and Horseradish and Parsley cream sauce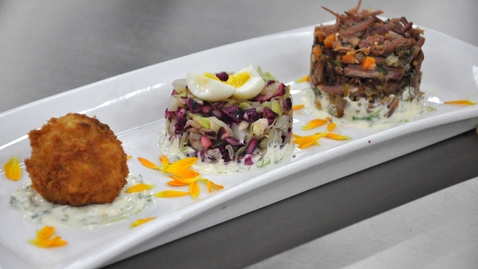 Ingredients
100 g silverside corned beef
1/2 carrot
1/2 leek
1 tblsp capers
1/2 tsp wholegrain mustard
1 tblsp beef stock
1 tblsp worcestershire sauce
1/2 clove garlic
salt
pepper
flat leaf parsley
25 g butter
1 tblsp olive oil
Croquette
1 large sweet potato
1 large new potato
1 horseradish leaf
salt
pepper
100 g plain flour
2 hen eggs
1/4 tsp nutmeg
100 g breadcrumb
2 l vegetable oil
Cabbage
100 g sweetheart cabbage
100 g white cabbage
100 g red cabbage
6 floz white wine vinegar
10 floz beef stock
salt
pepper
25 g butter
Horseradish parsley sauce
2 tblsp horseradish root
1 tblsp flat leaf parsley
salt
pepper
200 g crème fraiche
5 floz milk
1/2 tsp honey
Quail egg
Garnish
baby flat leaf parsley
flat leaf parsley
marigold flowers
Method
Corned beef hash
Shred cold silverside corned beef and put in a mixing bowl.
Melt butter and olive oil in a small pan; add finely chopped carrots, leek and sauté for 5 - 7 mins with garlic.
Add the sauté vegetables into the mixing bowl that already holds the corned beef.
Add chopped capers, wholegrain mustard, Worcestershire sauce, chopped flat leaf parsley and season with salt and pepper, mix altogether and add beef stock to bind.
Shape and allow to set in the fridge.
Add olive oil to small pan, brown both sides of hash for approx 2-3 mins and place in a preheated oven for 6-7 mins at 180c.
Croquette
Chop sweet and new potato and boil in salted water for 10 - 15 mins.
Mash and add cream, butter, horseradish leaf, nutmeg and 1 egg yolk, season with salt and pepper.
Add flour until mixture turns sticky and firm.
Shape and place in fridge for 20 mins.
Blitz bread into breadcrumbs with food processor.
Roll pre-shaped croquette in beaten egg and then into breadcrumb and fry in vegetable oil until crispy and golden.
Cabbage
Chop sweetheart cabbage and blanch in beef stock for 5-6 mins.
Put olive oil on griddle pan and place chopped white cabbage braise for 2-4 mins.
Chop red cabbage and place in white wine vinegar for 35 mins.
Season all with salt and pepper.
Sauce and quail's egg
Prepare horseradish root and add all ingredients to a mixing bowl, blend until smooth consistency in achieved. Season to taste.
Place quail's egg into salted boiling water. Boil for 2 mins until soft boiled. Remove and place in iced water.
Plating up
Serve the dish on a white rectangle plate, place the square corned beef hash to the top left, place the medley of cabbage to the right in a circle shape and the potato croquette at the bottom with the horseradish and parsley cream sauce dotted around between each and the quail egg sliced in half and placed between each. The baby and normal flat leaf parsley along with the marigold petals will be scattered in between to provide a rich sense of Ireland through the colours on the plate.