Seared Ballydehob Duck Breast
Served with a Cherry & Port Reduction, on a bed of Celeriac & Chive Mashed Potato accompanied by York Cabbage with Smoked Bacon & Walnut.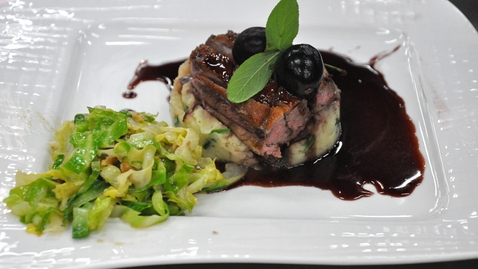 Ingredients
For the duck:
1 ballydehob duck breast
3 shallots
10 cherries stoned & halved
1 tblsp redcurrant jelly
300 ml duck stock
200 ml port
sea salt & cracked black pepper
a few sage leaves & parsley
York cabbage and smoked bacon
1 york cabbage shredded
2 slices of cured bacon
1 clove crushed garlic
5-6 walnuts
splash of double cream
sea salt & cracked black pepper
Celeriac and chive mash
3 rooster potatoes
0.25 celeriac
bunch of chopped chives
dash double cream
knob of butter
sea salt & cracked black pepper
Method
For the duck
Score the duck breasts & rub salt into the skin.
Pan fry the duck breast, skin-side down on a very low temperature to begin.
Increase the heat, (to crisp the skin), 10 mins approx.
Flip over for 2 mins turning off the heat.
Transfer to the oven on high 220°C for a further 4-6mins
Allow the duck breast rest for 6-8 mins after cooking.
Cherry sauce
A lot of duck fat will have run into the pan, drain a little fat to begin on the cherry sauce.
Fry the shallots in a little duck fat on a gentle heat for 3 mins, until translucent.
Add port increasing the heat to full and flambé the alcohol, reduce to half volume.
Add the duck stock along with the stoned, halved cherries and the redcurrant jelly.
Reduce and let the sauce cook for at least a further 5 mins to intensify flavour.
Cabbage with smoked bacon and walnut
Wash and shred the cabbage.
Fry the bacon in a little duck fat over a high heat to crisp up.
Add a clove of garlic to pan with the bacon, turn down the pan.
Add the shredded cabbage & toss in pan for 2-3 mins on a medium heat.
Add a little water and bring the cabbage to a boil for 2 mins.
Add a splash of double cream & some walnuts, toss well.
Finish off with some sea salt and cracked black pepper.
Celeriac mash
Peel and chop potato and celeriac into saucepan.
Add boiling salted water and boil for approx 6 mins.
Drain and allow steaming for 2 mins before adding butter.
Mash and add a drop of double cream.
Add the chopped chives and season.
Plating up
Allow the duck to rest before carving and place on a bed of celeriac & potato mash in the centre of the plate. Drizzle the cherry & port sauce over the duck and garnish with sage. A portion of York cabbage is placed to the side.