Vegetarian ramen
Served with deep fried tofu and sweet chilli noodles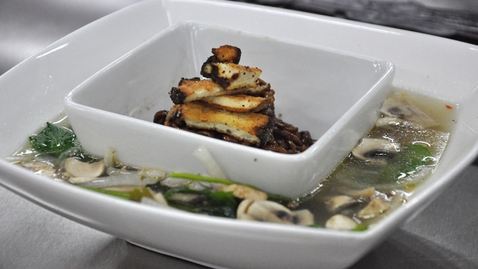 Ingredients
1 cup tofu
3 cup vegetable oil
4 tblsp seasoned flour
0.50 cup corn flour
2 cup vegetable broth
1 cup dark soy sauce
2 tblsp paprika
5 bay leaves
2 tblsp tandoori masala
2 onion
2 tblsp parsley
4 cloves garlic
1 tblsp each: black and white mustard seeds
3 pods cardamom pods
2 cups: homemade soba noodles
2 tblsp chilli flakes
2 tblsp honey
2 tblsp fresh ginger
1 cup pak choi
0.50 cup mushrooms
0.50 cup spring onion
0.50 cup leeks
2 tblsp fresh ginger
handful spinach
1 courgette
1 carrot
Method
Heat oven to gas mark 7
Marinate pressed tofu with the following ingredients: 1 cup of dark soy sauce, 2 bay leaves, pinch of paprika, pinch of tandoori masala, pinch of ½ an onion, 1 tsp of grated fresh ginger and 2 tsp of toasted sesame oil
Leave the tofu to marinate until near the end of the cooking session (ideally 40 mins).
While the tofu marinates prepare vegetables for roasting. This includes the 1 onion, 3 cloves of garlic, ½ a carrot, the leeks and courgette.
Continue to roast the ingredients with ¼ cup of toasted sesame oil. A pinch of chilli flakes, the mustard seeds alongside a ½ cup of dark soy sauce, 2 cardamom pods, 2 bay leaves, paprika and the tandoori masala. Oven preheated to gas mark 7 for 20 mins.
Bring 1/2 broth up to boil and add mushrooms with salt and pepper and leave to simmer on a medium heat for 5-7mins while I prepare the noodles.
Bring a pot of salted water to the boil and simmer gently after adding the noodles. To the pot add 1 bay leaf, a cardamom pod. Leave to cook for 3-4 mins.
Remove and drain the mushrooms.
After the noodles have become tender remove half of the water and add the honey, mushrooms, the chilli, the ginger and a pinch of parsley. Combine all ingredients well.
Leave to marinate.
Heat up 2½ cups of oil for frying the tofu.
Check and remove the roasted vegetables from oven if necessary.
Fry the tofu until golden brown.
Start to re-heat the remainder of the vegetable broth and season to taste.
Fry the rest of the onion for 2 mins on high heat, reduce heat and add the roasted vegetables, spring onion, the pak choi and marinated noodles.
Stir fry in a wok for 4-5 mins on med-high heat.
Ribbon cut half of the carrot.
Ladle broth into a dish.
Add the stir-fry and the tofu.