Pan-fried fillet of Carlingford Hake
Served with a warm summer potato salad, chargrilled parma-wrapped asparagus spheres with a dill beurre blanc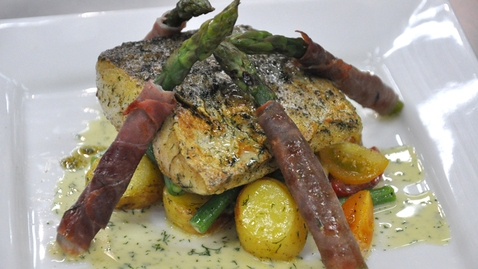 Ingredients
1 fillet of hake
8 baby potatoes
8 green beans
4 each red and yellow cherry tomatoes
4 asparagus
4 slices of parma ham
1 lemon
6 sprigs of dill
1 l stock
100 ml olive oil
100 g butter
100 ml cream
100 ml white wine
salt
pepper
Method
For the hake
Blend dill with butter with hand held blender.
Drizzle hake fillet with olive oil and season with salt and pepper.
Heat pan and fry, 3-4 each side – depending on thickness of fillet.
Towards the end of the frying time, reduce heat add dill butter.
Warm potato salad
Boil potatoes 10-15 minutes (depending on size), strain and return to hob and allow to steam for 1 minute.
Transfer to baking sheet and add butter, salt and pepper.
Place in 200°C oven.
Blanch french beans, refresh and chop in half.
Half cherry tomatoes and season.
Transfer French beans and cherry tomatoes to baking sheet and place in oven for 1 minute.
Asparagus spears
Trim asparagus stems then blanch in water seasoned with lemon juice and then refresh.
Drizzle spheres with olive oil and place on a hot griddle pan.
Beurre Blanc
Heat stock and add wine and a dash of cream to stabilise
Just before serving complete dish whisk in a spoon of the dill butter to heated stock. Keep on a low heat.
Assemble together and serve