Nettle ravioli
Stuffed with chorizo, from the MasterChef Ireland 2012 kitchen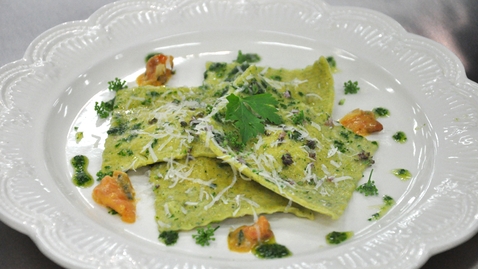 Ingredients
1 bunch of nettles
600 g type 00 flour
200 g semolina
6 egg yolks
25 g butter
2 whole eggs
parmesan
chorizo
6 large ripe tomatoes
2 medium white onions
4 cloves garlic
1 bunch fresh greek oregano
sea salt
black pepper
extra virgin olive oil
1 lemon (juice only)
fresh cream
teaspoon brown sugar
1 large bunch flat leaf parsley
1 clove garlic
1 lemon zest & juice
Method
Cook the nettles in the butter gently until wilted, blitz in the food processor. Combine nettle puree, egg yolks & whole eggs with 400g flour & 100g semolina (reserving remaining flour & semolina for dusting pasta). Cut pasta dough in two cover in clingfilm (separately) and chill in the fridge for ten minutes.
Meanwhile cut an X into the base of each tomato, drop them in boiling water for 30 seconds, remove put in a bowl & cover with clingfilm for 2-3 mins, when slightly cool, peel, de-seed & chop tomatoes. Dice the chorizo & the onions, heat two tablespoons of olive oil on the pan & fry off the chorizo until crisp (2-3 mins).
Remove from pan with most of the oil leaving one tablespoon. Fry onions until translucent, add tablespoon sugar & allow to carmelise for 30 seconds or so & de glaze with juice of a lemon. Add Tomatoes, salt, pepper & garlic to the onions & allow to simmer gently while pasta is rolled out. Roll out pasta (approx 10 mins) & cut into circles.
Bring a large pot of salted water to the boil. Meanwhile blitz parsley (leaves & stalks) with half a clove of garlic, lemon juice & zest & olive oil, season & strain.
Finish filling by adding back fried chorizo to the tomato, adding 1/2 tablespoon tomato puree, allowing that to cook out for thirty seconds or so & finishing off with 1 or 2 tablespoons of cream (& seasoning if necessary).
Brush a circle of the pasta with beaten egg. Place teaspoon (or so) of the filling in the centre, cover with another round of the pasta and pinch to secure (keeping the filling in the middle).
Boil for two to three minutes (or until the parcels float to the top of the pot). Drain.
Plating up
Place ravioli on the serving plate, drizzle with the parsley oil & grate over parmesan.