Pan-fried sea bream with deep fried calamari,
Served with Red and Yellow Pepper Escabeche, Black Olive Tapenade and Aioli.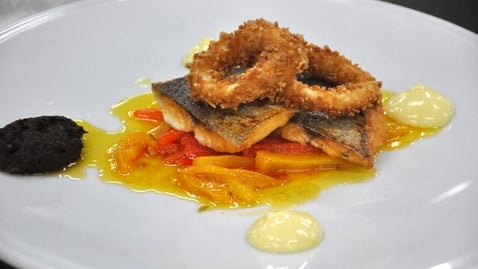 Ingredients
1 whole sea bream
1 whole squid
2 red peppers
1 yellow pepper
2 cloves garlic
juice of 1 orange
0.50 tsp fennel seeds
2 star anise
juice of 1 lemon
1 cup panko bread crumbs
1 egg
2 egg yolks
1/2 cup flour
1 l sunflower oil (for frying and mayonnaise)
extra virgin olive oil
salt
pepper
2 tblsp sherry vinegar
2 tblsp sugar
1 tsp dijon mustard
12 black olives
2 anchovies
Method
Sea bream
Scale and fillet the fish. Score narrow lines on the sides of each fillet. Heat 2 tablespoons of sunflower oil in a pan. Season the fish and place in the hot pan, skin side down. Cook for 3 minutes and turn. Cook 1 minute and remove the fish from the pan.
Plating up
Place the red and yellow pepper escapeche on the centre of the plate. The sea bream on top of that, then the calamari on top of the fish. There will be aioli piped on the side and a quinelle of the tapenade.
Aioli
Place 1 tsp Dijon mustard, 2 egg yolks, 1 minced garlic clove and 1 tsp white wine vinegar in a bowl. Whisk until emulsified. Add sunflower oil very slowly (drop by drop) whilst whisking. Once it has come together the oil can be added faster. Continue whisking until desired consistency is reached.
Olive tapenade
Thoroughly rinse the olives in cool water. Place Olives, Anchovies, 1 clove garlic and 3 tablespoons olive oil in the bowl of a food processor. Process to combine, stopping to scrape down the sides of the bowl, until the mixture becomes a coarse paste -approximately 1 to 2 minutes total.
Escabeche
Peel and julienne the peppers. Heat 3 Tablespoons olive oil in a large pan. Place the peppers in the pan. Sauté until soft. and slightly caramelised. Add 1/s tsp fennel seeds, 2 star anise, 2 tablespoons of sherry vinegar, juice of the orange and 2 tablespoons of sugar. Heat for two minutes. Add 3 tablespoons of olive oil stir and remove the pan from the heat.
Calamari
Clean and remove the skin and membrane from the squid. Cut in to 5mm thick rings. Pane the rings (dip in flour, egg and panko breadcrumb) and set aside. In a pot, heat sunflower oil to 170 degrees. Place rings in hot oil for 45 seconds or until they turn golden. Remove and place on kitchen towel.