Roast Duck, spicy squash and fondant potato
A delicious main from MasterChef Ireland 2012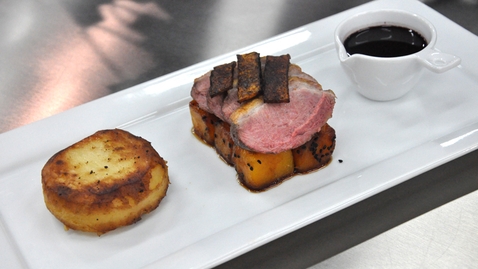 Ingredients
2 duck breasts
2 butternut squash
honey
onion seeds
2 cm root ginger
250 g clarified butter
2 large maris piper potatoes
5 sprigs of thyme
1 bulb of garlic
5 shallots
table spoon of brandy
1 l chicken stock
1 l beef stock
0.50 l red wine
0.50 l port
vegetable oil
salt
pepper
paprika
Method
Oven on at 200°C (Fan Oven.)
Heat deep fat fryer to 350°C.
Prepare the squash
Put squash into boil
Cut the fondant potatoes in the dessert mould
Prepare the shallots and grate the ginger
Prepare / season the duck breasts
Remove the squash from boiling water
Put clarified butter onto heat up. Medium heat
Put vegetable oil onto heat. Hot heat
Place potatoes in clarified butter five minutes each side
Place duck skin down in oil with one sprig of thyme and garlic clove for three to five minutes.
Turn fondant potatoes when coloured to one side.
When coloured, place duck onto a preheated baking tray in the 200 degree oven for six minutes.
Remove excess fat from duck pan.
Deglaze pan with brandy.
Add shallots and cook until fluid almost evaporated away.
Add two sprigs of thyme
Add red wine 500ml
Add beef stock 500ml
Add port 100ml and cook down.
When fondant potatoes are coloured to both sides take off heat and add garlic cloves, unpeeled and 2 sprigs of thyme.
After six minutes remove duck breasts from oven and leave to rest on a warm plate covered by a tea towel.
Cut remaining squash using mandolin into disc shapes for deep frying.
Take sauce off the heat when reduced down and will coat the back of a spoon.
Strain using sieve into the small pot and retain.
Add a tablespoon of oil to the small pan and cook onion seeds until they pop. Remove from pan dry on kitchen paper.
Add clarified butter to small pot on a low heat until gently bubbling then add squash, seeds, ginger and one table spoon of honey. Slowly cook off until the squash is caramelized.
Remove squash from heat and lift onto kitchen paper.
Remove fondant potatoes from stock mixture and cover with kitchen paper to remove any grease.
Cut sauce to heat until warm then a little clarified butter to add shine
Place squash discs in hot oil and cook until crisp, ½ minutes.
Plating up
Squash to be neatly stacked two one side of the plate.
Duck breast to have ends cut off and be cut in two.
Each part of the breast to sit on top of the squash with one of the squash discs sitting in between the duck breasts giving elevation.
The other disc to sit at forty five degrees against the potato fondant.
The sauce is to be served in an individual container to be poured by the judges.