Bacon-wrapped Monkfish
Served with Spinach, Gruyère Mash and Lemon Mayonnaise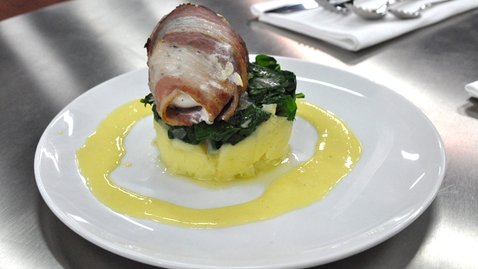 Ingredients
125 g monkfish
4 slices smoked streaky bacon
100 g spinach
1 shallot (chopped)
2 cloves garlic (chopped)
75 g gruyère cheese
360 g potatoes (peeled)
75 ml olive oil
2 egg yolks
75 ml groundnut oil
1 tsp dijon mustard
1 tsp rosemary (chopped)
1 tsp thyme (chopped)
1 tsp lemon rind
2 tblsp butter
juice of 2 lemons
salt and black pepper
Method
Preheat the oven at 200°c. Place the potatoes in a saucepan and cover with water and a pinch of salt. Bring to the boil, cover and simmer for 20 - 25 minutes.
Flatten the bacon with the side of a large knife. Slightly overlap the slices of bacon.
Season the fish with the rosemary, thyme and black pepper. Place the fish on the bacon and wrap into a parcel. Fry the parcel (pretty side up) in a little oil for 2-3 minutes. Place the pan in the oven for 10 - 12 minutes.
Whip the egg yolks and mustard in a mixing bowl. Gradually add the two oils and whip till creamy. Add the lemon juice and pepper.
Drain the liquid from the potatoes; add the butter and cheese and mash. Season with salt and pepper.
Sautee the shallot and garlic in a pan. Add the spinach and cook for 1 - 2 minutes.
Plating up
To serve, half-fill the chef ring with mash in the middle of the plate.
Fill the top half with the spinach.
Remove the ring and place the fish on top of the spinach.
Surround with the lemon mayonnaise.