Beef rollers
Served with wild mushrooms, buckwheat and horseradish beetroot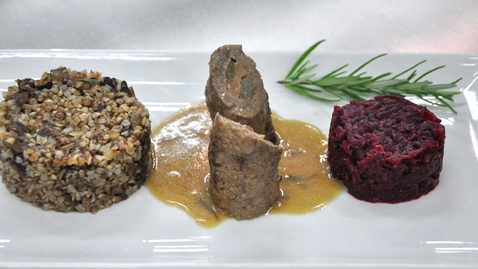 Ingredients
2 thin cut beef steak
4 tea spoon of mustard
1 sour cucumber
2 piece of smoked streaky bacon
0.50 onion
salt
mix spice
pepper
rosemary
lovage
100 g buckwheat
50 g cooked dried wild mushrooms (dried shop-bought but soaked overnight)
4 small cooked beetroot, (pre-cooked & shop-bought variety)
200 g butter
oil
100 ml cream
100 g grated horseradish
5 cloves of garlic
4 shallots
500 ml beef stock (homemade)
flour
Method
Smash beef steaks with meat hammer and rub them with salt and pepper.
On each lobe of meat lay slices of bacon, cucumber and onions.
Roll them up and fasten with a toothpick. Then coat the rollers in flour (Prep: 10 to 15 minutes).
Next, fry rollers in oil on both sides for around five minutes and then place them in saucepan. Put in beef stock (already heated in a microwave), garlic, shallots, rosemary and lovage and cook for around 20 to 25 minutes with lid on.
During the preparation of rollers, on the stove will be a saucepan with buckwheat in salted water with garlic, rosemary (this will cook in around 10 minutes).
Drain cooked buckwheat. As next step, take a pan put some butter and chopped wild mushrooms and fry them for around 2 minutes then put in buckwheat and fry for another 3 minutes.
Grate beetroots and mix them with mashed horseradish.
Plating up
Plate up dish on the serving plate - place beetroots, buckwheat and rollers side by side.