Cantonese Sea Bass
Served with Shiitake Mushrooms, Leek & Ginger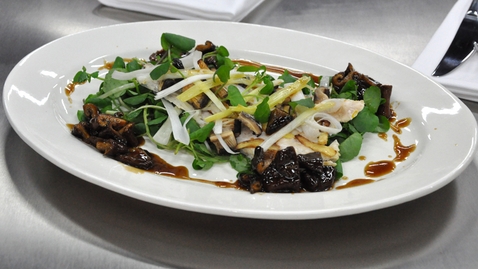 Ingredients
1 fillet of sea bass
3 cm piece of ginger
20 g shiitake mushrooms
one leek
0.50 a knorr chicken stock pot
15 ml oyster sauce
15 ml soy sauce
15 ml sesame oil
handful of watercress
4 tblsp extra virgin olive oil
salt
pepper
Method
Pre-heat the oven to around 200°C. Slice the ginger; chop the mushrooms, set half aside. Julienne the leek.
Lay out the tin foil in the baking tray. Place the sea bass, top with ginger, half the mushrooms and leek and seal in the tin foil parcel. Steam the fish in the oven for 10mins
Remove the ginger and shallow fry for 3-4 minutes/ until golden and crisp. Drain on kitchen paper.
When the ginger has cooled (about 5 mins.) return to the foil parcel and steam for a further 5 mins, or until the fish is cooked.
In a hot pan, reduce the chicken stock, oyster sauce, soy sauce and remaining mushrooms in a pan until thick.
Add the sesame oil.
Plating up
Transfer the sea bass to a plate, on top of some watercress.
Pour the mushrooms and sauce around the fish.
Dress with a small bit of watercress.