Salmon with a mustard crust, courgette rosti and smoked salmon rissole
A lovely dish from MasterChef Ireland 2012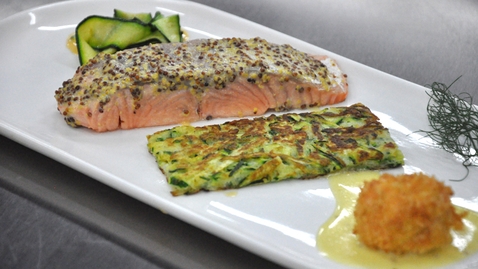 Ingredients
1 salmon steak
1 smoked salmon steak
fennel leaves
lemon juice (few drops)
flour
breadcrumbs
1 egg (beaten)
grain mustard to coat salmon
1 tblsp cream
1 large courgette
2 knobs of butter
1 garlic clove (finely chopped)
ground rice, tablespoon
2 egg whites
2 tblsp pancetta cubes
pinch tarragon
glass of dry white wine
125 ml cream
125 ml fish stock
smoked paprika, pinch
salt & freshly ground black pepper
sunflower oil for deep frying
Method
Preheat oven to 170°C. Put on oil to heat for deep frying. Put grill to hot.
Chop pancetta and blanch for 1 minute. Drain and reserve.
Blitz bread into breadcrumbs. Blitz smoked salmon with cream, lemon juice and fennel leaves. Season. Roll in flour, egg, breadcrumbs. Deep fry for 30 seconds, turning to colour all over.
Slice 1/3 of the courgette into ribbons.
Grate remaining courgette, squeeze dry through a cloth. Stir in ground rice, mix in egg whites and garlic, season with salt and pepper. Fry in butter, turning once, for 1 minute each side to lightly brown, then put in oven to cook through.
Reduce cream, fish stock, blanched bacon, tarragon and white wine. (ongoing, but about 20 minutes) Stir in salmon cooking juices when salmon is cooked. Strain and check seasoning.
Mix grain mustard and cream. Season with black pepper. Spread on salmon. Fry salmon on underside for 30 seconds, then put under grill for 3 minutes, or until just opaque.
Fry courgette ribbons in butter for 1 minute, until just softening. Drain on kitchen roll.
Cut rosti to shape.
To plate
Swipe first sauce (strained reduction), stir smoked paprika into remaining sauce, swipe second sauce. Place courgette rosti and salmon, sprig of fennel, place smoked salmon rissole, place ribbons.