The MasterChef Judges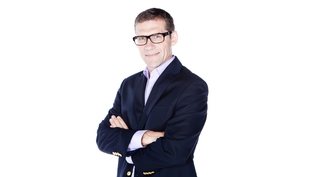 Nick Munier
Nick Munier was born in August 1967 in Kent and when growing up helped his parents, Elaine and Jean, in their guesthouse from a young age, which gave him a good background in service.
After leaving school at 16 with a basic qualification of GCSE's, Nick followed catering school with a stint in Germany. When Nick returned from Germany he secured a job with the Roux brothers in London.
He was only 18 and was working in one of the most famous restaurants in the UK. In total he stayed for two years, learning and honing his craft.
In 1991 he joined the K Club as Restaurant manager, in the hotel's Michelin starred restaurant, spending a year there before receiving a call to come for interview as an assistant restaurant manager in Marco Pierre White's 2-Michelin star restaurant The Hyde Park in London.
Nick spent almost a decade working with Marco on and off, with time spent managing many of his restaurants, including The Hyde Park, The Oak Room, The Criterion Brasserie, and The Belvedere, Holland Park.
A call from chef Conrad Gallagher, who had just opened a restaurant called Peacock Alley, led to a return to Dublin. Nick only lasted two weeks, as Conrad had forgotten to tell him that he actually had an existing restaurant manager.
However one good thing came out of this short spell in Dublin - Nick met his future wife Denise McBrien from Clondalkin.
In 2002 Nick moved back to Ireland to work as manager for one year in Restaurant Patrick Guilbaud.The Clarence Hotel, Dublin appointed Nick as their Food and Beverage manager in 2003-2006.
Nick Spent 2006 & 2007 working in a consultancy capacity for the start up of many new projects in Ireland, including "The Village at Lyons" for Tony Ryan, "Bon Appetit" in Malahide, "Ivans" in Howth, "The Exchange Restaurant" at the Westgrove hotel in Clane, Co. Kildare and "One Pery Square" in Limerick.
In 2007 Marco Pierre White asked Nick if he would be interested in being a maitre d on camera on his new TV show Hell's Kitchen.
Nick agreed, thinking he would barely be featured on camera. However once the series went to air and achieved six million viewers Nick was soon getting recognised out and about on the street.
When Hell's Kitchen finished, Nick returned to Dublin and took a job at l'Ecrivain, although he left after a short period.
Nick had been toying with the idea of opening the restaurant for around two years, and in July 2009 that dream finally came true when Nick, along with his business partner Stephen Gibson (who he worked with at l'Ecrivain) opened their restaurant "Pichet" on Trinity St. Pichet was an instant success.
Within 6 weeks they were breaking even. Within 6 months of opening Pichet was awarded a Bib Gourmand by the esteemed Michelin Guide. It continues to do very well and has secured a loyal clientele.
Nick's second great passion is abstract art and has been painting in this form for the last 10 years. He has held 3 solo and 2 group exhibitions in Ireland and 2 group exhibitions in England.
Nick and Denise married in 2003 and had their reception in the The Clarence hotel. They have three sons, Conan (15), Luc (7), and Alex (4).
During rare time off from work, Nick likes to take the kids to McDonalds and the cinema. They live in Ballinteer in South Dublin.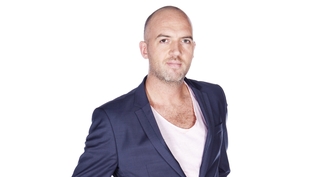 Dylan McGrath
Dylan McGrath was born in the Rotunda hospital in Dublin and moved to Carlow soon afterwards, where he lived until he was 7. His family moved to Falls Road in Belfast, which, at the height of the Troubles, was a big adjustment for the family.
Dylan had no interest in food when he was young, and says that he was actually a very fussy eater. Dylan says that he did always think that he had an artistic streak but didn't make the connection with cooking until his mid 20s. When Dylan was 17, he left home and went to Portrush Catering College but only lasted a couple of months. He then went to Belfast Institute to try another catering course, but wasn't inspired by what he was learning there either. Although he had a natural talent for food he was uninterested in learning about keeping a store cupboard and health and safety basics.
Within three weeks of starting his first job in Jurys Inn, Belfast, Dylan was given the job of Head Chef. An ability to speak with confidence and a photocopy of his friend's qualifications clinched the job for him. At the age of 18 he was responsible for ten to twelve chefs in a brand new city centre Jury's Hotel. He later left Jury's to work in Roscoff, Northern Ireland's only Michelin starred restaurant. This was his first experience of working with driven committed chefs who were truly passionate about food. Dylan was so hungry for knowledge that he spent hours perfecting his techniques and trying to improve his knowledge.
After a year at Roscoff, Dylan was ready for the next challenge and decided that he wanted to step up to a 2 Michelin star restaurant. He moved to the UK to work at John Burton Race's two-star Michelin restaurant, L'Octolan, in Reading . He spent three years at the restaurant in total, and it was there he gained the discipline and military precision needed for cooking at that level.
It was at there that he learned the real importance of the continual tasting of food as he cooked, and to understand how the components and structure of a great dish came together. In July of 2002, having exhausted himself, Dylan returned home to Dublin to work with an old friend, Aidan Byrne, at the Michelin-star, Commons Restaurant, where he stayed until the following March. He then went back to London, where he commenced work with Tom Aiken, in his new restaurant in Chelsea.
Working with Tom Aiken was hard, but Tom recognised Dylan's ability and drive, and pushed him to his limit. Dylan says that Tom had a huge influence on him. The hours were punishing. On Monday mornings Dylan had to get up at 4am to go to Covent Garden food market and purchase the fruit and vegetables, before arriving at the kitchen at 6am, and working until 1am the following morning. This pattern continued until Friday of every week.
Dylan returned home to take up his own head chef position in Mint restaurant in Ranelagh. The restaurant was hailed as one of the most exciting places to eat in the country and Dylan earmarked as a chef to watch. It received many accolades, among them; a Michelin star, Food and Wine best chef and best wine list, hotel and a catering gold award for excellence. It was the only restaurant, besides Restaurant Patrick Guilbaud, to receive 2 stars in Georgina Campbell's guide.
His quest for a Michelin star was the subject of an RTE documentary, Pressure Cooker, which divided public opinion on his treatment of staff. The restaurant closed down in 2009 due to the economic downturn and the fact that it was a small restaurant serving less than 40 covers.
In August 2010, Dylan announced the opening of his new restaurant "Rustic Stone". For several months Dylan and his team worked to create an original concept that maintained his own distinctive innovative style and creativity, but at a price that was affordable and accessible to everyone. "Rustic Stone" is a casual dining, contemporary restaurant which delivers on the flavours Dylan is so passionate about but without the formality he previously would have been associated with.
Dylan's latest venture is Fade Street Social by Dylan McGrath and one of the most exciting and ambitious restaurant projects to happen in Dublin for a very long time. The new venture will open its doors in October 2012 and will consist of two completely different restaurants with separate menus and kitchens in an 8,000 square foot Dublin building in the heart of the city. Dylan currently lives in Dublin. He says that he is not a sports fan and admits he doesn't particularly have any hobbies but he does like going to the gym regularly.