Lynda Booth shares some of her favourite chocolate recipes - perfect for Easter Weekend.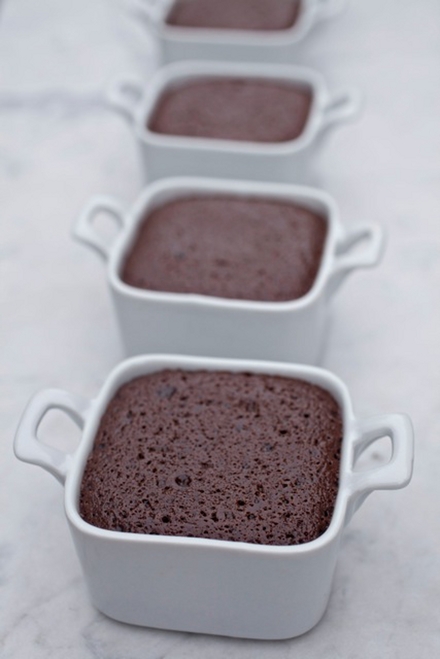 Clara's Hot Chocolate Pots
Lynda says: "These chocolate pots are more like a hot mousse with a rich chocolaty flavour. They aren't difficult to make and the result is amazing.
Serves 6
Ingredients:
160 g dark chocolate, finely chopped
4 tbsp water
3 large eggs, at room temperature
40 g caster sugar
whipped cream, to serve
Equipment 6 ramekins, about 8cm wide and 5cm deep
Method:
• Preheat the oven to 160°C, 140°C Fan, 325°F, Gas 3.
• Place the chocolate and water in a heatproof bowl. Melt in the microwave on 600W for 1 minute and in short bursts after that. Stir each time you remove the bowl from the microwave. Alternatively, melt the chocolate in a bowl set over a saucepan of barely simmering water, stirring every so often. Remove as soon as the chocolate is fluid and allow to cool a little.
• Place the eggs and sugar in a bowl and beat with an electric whisk or in a stand mixer (which will give more volume). Whisk the eggs until tripled in volume. Fold a little of the egg mixture into the chocolate. Pour the chocolate mixture back into the whipped eggs and sugar and fold the two together. Pour the mixture into the ramekins and fill almost to the top. The chocolate pots may be made up to this point in advance and refrigerated, covered, for up to 2 days.
• Place the chocolate pots in ovenproof dish and pour boiling water to come half way up the ramekins. Place in a preheated oven and cook for about 15-20 minutes. The pots should be soft and mousse-like. They will also set a little more if left to cool for 5-10 minutes. Serve while still warm topped with some whipped cream.
Click here to watch Lynda make this recipe

Chocolate Hazelnut Cupcakes
Makes 10 cupcakes
Ingredients:
110 g /4oz unsalted butter
125 g /4 ½ oz dark chocolate (at least 60% cocoa solids), chopped into small pieces
140 g /5 oz caster sugar
2 medium eggs, lightly beaten
¼ tsp vanilla extract
1 heaped tabsp crème fraiche
25 g /1oz hazelnuts
110 g /4oz self-raising flour, sieved
1 tbsp cocoa powder, sieved
Ganache topping
110 g /4 oz dark chocolate, finely chopped
110 ml /4 fl.oz single cream
Extra dark or white chocolate for piping (optional)
Equipment: 12 cup muffin tin, 10 paper muffin cases
Method:
• Preheat the oven to 180C/350F/Gas Mark 4
• Put the hazelnuts on a baking sheet and place in a preheated oven until toasted. This will take approximately 5 minutes. Place the nuts in a teacloth and rub vigorously to remove the skins. There will always be a few stubborn ones so don't worry about these. Chop the nuts quite finely and set aside until ready to use.
• Line a muffin tin with paper cases.
• Place chocolate and butter together in a heatproof bowl. Sit the bowl over a saucepan of barely simmering water and heat until the chocolate and butter have melted, stirring occasionally. Remove from the hob, mix in the sugar and stir to mix.
• With an electric hand mixer, beat in the eggs little by little, beating well between each addition. Mix in the vanilla extract and crème fraiche. Fold in the flour , cocoa powder and chopped hazelnuts. Spoon the mixture into 10 paper cases and bake for 15-20 minutes. Test by inserting a wooden skewer into the centre of one of the cupcakes – they are ready when moist crumbs stick to the skewer. Remove from the oven, allow to cool for a few minutes and then transfer the cupcakes to a cooling rack. When the buns are completely cold, they may be dipped in ganache.
To make the ganache
• Place the cream in a small saucepan and bring up to the boil. Turn the heat off immediately and add the chopped chocolate. Stir until the chocolate has completely melted and the ganache is totally smooth. Pour the ganache into a bowl and allow to cool for 5-10 minutes until it thickens a little. Pick up the cupcakes one by one and dip the tops into the runny ganache. so that it forms a lovely smooth shiny glaze over the top.
• To decorate
• Melt a little white chocolate over a saucepan of barely simmering water. Pour into a small piping bag and drizzle lines of chocolate back and forth over the top of each cupcake. Allow to set. Store the cupcakes in an airtight container. They will keep for several days.
Click here to watch Lynda make this recipe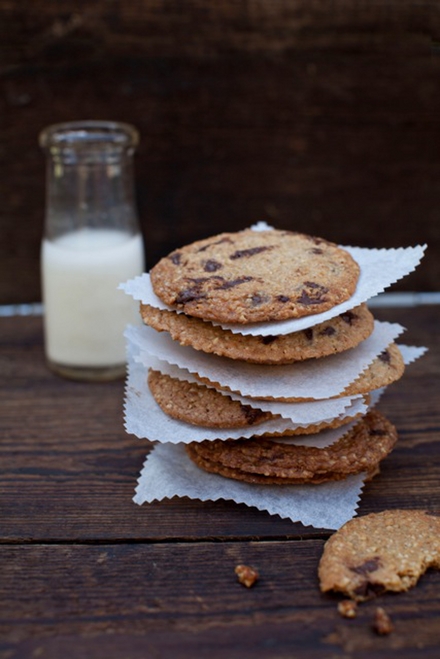 Chocolate Oatmeal Cookies
Lynda says: "The pinhead oatmeal in these biscuits gives them their distinctive crunch. Very thin. Very crispy. Very delicious."
Makes 45 x 7cm cookies
Ingredients:
230 g soft light brown sugar
150 g unsalted butter, at room temperature
1 egg, lightly beaten
2 tsp vanilla extract
125 g plain flour
1 tsp baking powder
pinch of salt
240 g pinhead oatmeal
175 g chocolate chips
Method:
• Preheat the oven to 180°C, 160°C Fan, 350°F, Gas 4. Line 3 large baking trays with baking parchment or a silicone mat.
• Cream the sugar and butter together in a bowl until fluffy and smooth. Add the egg and vanilla extract and beat until smooth. Sift the flour, baking powder and salt into the bowl and mix lightly. Add the oats and chocolate chips and stir to combine.
• Scoop up a heaped teaspoon of dough and place on a baking tray, allowing enough space for the cookies to spread. Bake the cookies for about 20 minutes, or until pale golden. Remove from the oven and cool on the trays for 5 minutes before transferring to a wire rack to cool completely.
Click here to watch Lynda make this recipe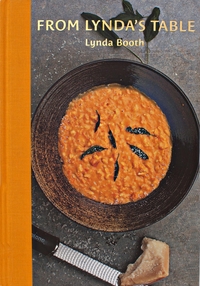 Recipes taken from From Lynda's Table by Lynda Booth. Check out www.dublincookeryschool.ie/ for more info and a schedule of classes and courses.