Malteasers and Tayto are branching out in the confectionary market with two exciting new chocolate launches...
Maltesers iron out a new bar
April marks the introduction of the biggest and most exciting new product launch the Confectionery industry has seen of late with the launch of the new 'Teasers' bar from Maltesers and the Mars company.
Teasers promises to be everything consumers love about Maltesers now in bar. This delicious addition to the category creates a new way for consumers to enjoy their favourite bite sized treat. (We're particularly fond of them as a cinema treat!)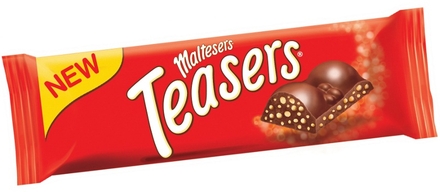 Having tasted a quick sample, our verdict is that it's a totally different experience to eating a bag of original Maltesers. We prefer the original individual pieces as they provide more crunch and less chocolate. However, for Maltesers lovers and chocolate aficionados in general - you won't be disappointed by this brand new bar on the block.
Cheese and onion chocolate
Tayto have unleashed their newest innovation in the form of the highly-anticipated Tayto milk chocolate bar with crispy morsels of Tayto Cheese & Onion throughout.
Working with Butlers Chocolates, another company shrouded in history in Dublin, the two companies came up with a bar together to create a truly Irish product.
For the last year, a plain bar of milk chocolate with the iconic Mr. Tayto featuring on the wrapper has been sold in Tayto Park. A strong viral campaign and thousands of emails, tweets and Facebook posts begging Tayto to make the perfect chocolate crisp bar has proven successful.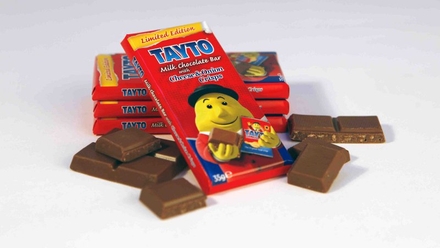 Having tried a tiny sample we have to say it could very well be the perfect guilty pleasure for sweet tooths and crisp lovers combined. There are two strong, bold flavours to combine which the people behind the idea should be proud of achieving as neither one overshadows the other.
If you gnash away at your chocolate you will get subtle senses of crisp after a sweet, chocolate beginning. The signature Tayto Cheese and Onion flavour then lingers afterwards in pangs. If you prefer to let the chocolate melt in your mouth, the flavours are quietened down, softer and don't seem to leave as bold an impression. Bigger morsels would make an even crispier experience for us!
Ray Coyle, founder of Largo Foods says: "This limited edition Tayto product is on the shelves today because people have been asking us for it. It's a bit of fun, you will either love it or hate it, but our consumers asked for it and we said why not!"
Coyle warned that only 100,000 bars are in circulation so get your hands on this limited edition bar in Tayto Park itself, Ashbourne Co. Meath, or in select retailers like Londis, Eurospar, Gala, Mace, Topaz, Spar, Daybreak and Costcutter. Select locations of the above will stock the bar by the end of April.
More information on Tayto can be found at on Mr Tayto's page on Facebook, or follow Mr. Tayto on Twitter.
Lily's looking good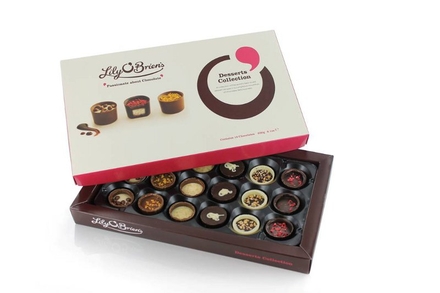 Irish chocolate makers Lily O'Briens have also undergone a taste transformation, as well as a marketing and packaging makeoever. Read our piece on their improved lines over on our blog.
Patrick Hanlon