Start as you mean to continue, they say. Begin 2013 with some healthy choices...
Here at RTÉ Food we know the New Year constitutes pledges of healthy living, fresh starts and smart choices. Whether you are beginning the year off as you mean to continue (maybe resolving to eat healthier or cut a certain type of food out) or just trying to fight back after a bit of Christmas splurge and indulgence. We have you covered!
Here are our pick of twenty top salads, plus how to make them, from recipes right here across RTÉ Food.
André's halloumi, peach and chilli salad from Rozanne Stevens. Inspired by Greek cuisine, the chef's brother offers this hot, sweet and spicy salad choice.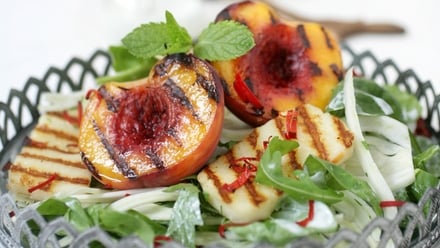 Russian Winter salad from Monica Loughman. From her ballet background and experience of the harsh winter weather in Russia, Loughman has a keen knowledge of what's good and what's not to put into the body at this time of year. Watch her make it on Four Live following the link.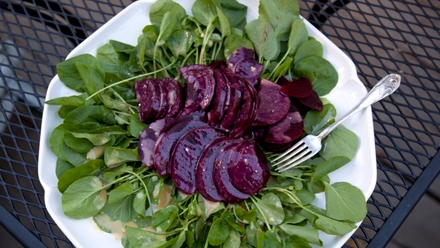 Mixed wholegrain salad with a soy and ginger dressing from Lorraine Fitzmaurice. Lorraine is the woman in the know with regards top quality vegetarian foods, especially salads. Another few choices from Fitzmaurice include beetroot and orange salad with watercress and walnut, carrot and daikon salad with coriander, and a szechuan slaw salad.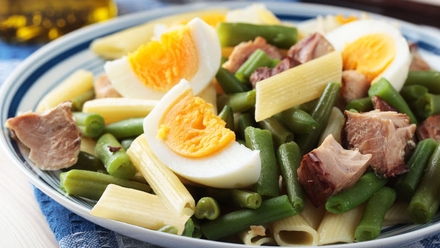 Kelkin's Nicoise salad is an excellent choice for flavour and something that is completely gluten-free, even with pasta included!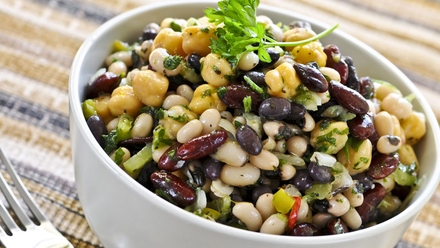 Watch The Happy Pear boys make a smashing bean salad in mere seconds on Four Live.
Eamon Ó'Catháin has two really interesting salads on offer - a chicken and glass noodle option, or a spinach, chickpea and artichoke salad.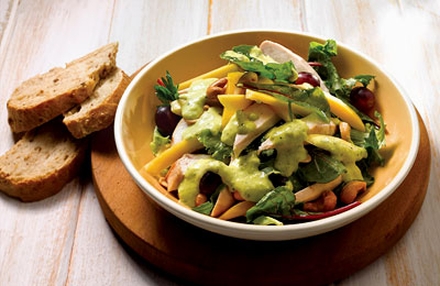 Chicken is one of the best salad meats to include as it's so versatile. Try Bord Bia's take with a chicken, cashew nut and mango salad, or Rachel Allen's chicken, puy lentil salad.
Dr Eva Orsmond has a sumptuous warm beef salad, which is slightly Thai spiced and sounds heavy but is actually a healthier take on the dish.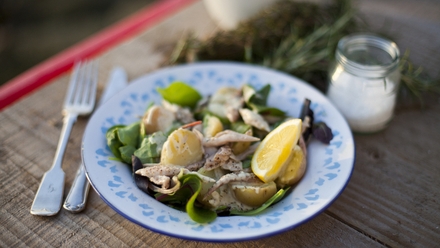 From the sea, Phelim Byrne has a great spiced Salmon dish with a fresh and crunchy Asian salad, while Donal Skehan has a lovely looking smoked mackerel salad, a must for fish lovers!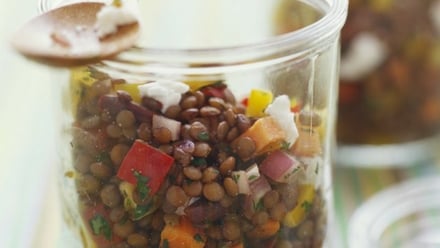 For vegetarians, salad needn't be boring or overdone. Try Trish Deseine's Mediterranean green bean salad, Rozanne Stevens' lentil, sunblush tomato and feta salad or, our personal favourite, Richard Corrigan's rocket, apricot and cous cous dish.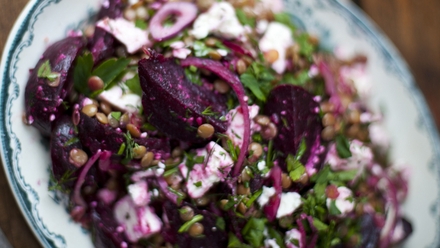 There's nothing better than great root veg at this time of year. Donal Skehan has an impressive roasted beetroot, lentil and feta salad, while Kevin Dundon has a roasted vegetable salad that is just crying out to be made with leftovers or unused vegetables!