Leg, thigh, breast, wing, neat slices or torn off chunks, delicately nibbled or devoured with your fingers - with whole roast chicken the possibilities are endless!
Whole roast chicken is one of the simplest, yet tastiest meals to cook - a few minutes preparation and just pop it in the oven. A family favourite for Sunday dinners or nutritious week-day meals, simply add some lemon, garlic, ginger, herbs, or even just a little seasoning to enhance chicken's delicious natural flavours.
And the beauty of cooking a whole chicken is that you can have much more than just one meal. Leftover chicken can be used to make spicy curries, tasty stirfrys, delicious warm or cold salads, hearty soup, nourishing stock or wholesome sandwiches.
For a range of tasty chicken recipes visit the Bord Bia website and always remember to choose chicken with the Bord Bia Quality Mark so that you can trust it has been produced with great care and attention and you know where it comes from.
Whole Roast Chicken with Thyme
It really couldn't be simpler – a little bit of preparation and pop into the oven. Remember to choose chicken with the Bord Bia Quality Mark so that you can be sure it has been produced to the highest standards.
Serves six
1½kg whole chicken
Small bunch fresh thyme
1 lemon
2-3 garlic cloves, crushed
1 tablespoon olive oil
A little salt and freshly-ground black pepper
Method:
Preheat the oven to Gas Mark 6, 200°C (400°F). Put the lemon and a sprig of thyme inside the cavity of the chicken and place in a roasting tin. Strip the leaves from the remaining thyme stalks and place in a bowl along with the garlic, olive oil and seasoning. Mix to combine then brush this mixture over the chicken, working it into all the nooks and crannies.
Cover the chicken loosely with foil and roast in the oven for 30 minutes. Then reduce the temperature to Gas Mark 4, 180°C (350°F). Remove the foil and roast for another 50-60 minutes. If the juices run clear when the bird is pierced in the thigh with a skewer, you know the chicken is cooked.
Remove the cooked chicken to a carving board and cover loosely with foil. Allow to rest for 15 minutes while you make the gravy. Stir the pan juices over the hob to heat through. Add a little stock or water and boil up.
Delicious served with chunky carrots, parsnip, potatoes and half a head of garlic which can be simply tossed in a little olive oil and seasoning and roasted for the last 20 minutes with the chicken.
For more chicken recipes visit www.bordbia.ie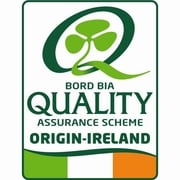 By choosing meat with the Bord Bia Quality Mark you can trust that your food has been produced with the great care and attention and you can trace the wholesome, natural ingredients back to the farm they came from.
To learn more about the Bord Bia Quality Mark and for a range of tasty dinner recipes visit www.bordbia.ie