Bord Bia find....
A survey conducted among leading Irish restaurant owners and chefs from around the country has shown that 70% of those surveyed have increased the amount of local ingredients for use in their restaurants in the past 2 years.
The survey was conducted among previous recipients of Bord Bia's Just Ask! Award, a campaign that aims to encourage consumers to look for information on where their food comes from when eating out and encourages chefs to provide the information on their menus.
Restaurant owners have also noticed that consumers are increasingly concerned about where their food is coming from and are actively looking for this information when dining out. Commenting on the results, Kay Harte from Farmgate Cafe, English Market in Cork, the 2012 Georgina Campbell Just Ask! Winner said "More and more customers are asking us where their food is coming from. People are no longer content with knowing what it is they are eating, they want to know the origin of the produce too. We include a list at the back of our menu and have a dedicated 'supply chain' section on our website which names all of our suppliers, many of which come straight from the market downstairs".
Other key survey findings include:
• 85% of those surveyed feel that their business has improved because of their transparency regarding sourcing of ingredients
• 75% rate freshness as the most important reason for buying local
• 65% buy local to support the local economy
• 61% source the meat used in their restaurant from within their own county
The survey also shows that as a result of the increase in demand for sourcing ingredients locally, food producers are increasingly offering more unusual products, with those surveyed now claiming to be able to source ingredients such as Sweetcorn, Edible Seaweed, Sea Beat, Trout Caviar, Venison and Irish Buffalo Mozzarella in their locality.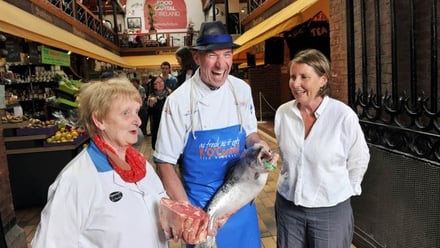 Kay Harte of Farmgate Café, English Market, Cork City (far right) with suppliers Katherine O'Mahony of O'Mahony's Butchers and Pat O'Connell of K O'Connell Fish Mongers
Maureen Gahan, Food Service Specialist, Bord Bia added, "Recently commissioned Bord Bia research shows that eating out is still on the menu with Saturday remaining the most popular night for dining out. Since we launched the Just Ask! Campaign in 2009 we have seen an increased commitment from restaurateurs and their chef's to inform their customers where the food they are eating was produced. It's fantastic to see such a commitment by some of Ireland's top restaurants to scouring products from local suppliers."