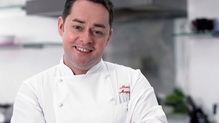 From a very young age, one of Neven's favourite pastimes was to shadow his mother in the kitchen, watching her cook; his pastime soon became his passion, as he began experimenting with ingredients in the home kitchen at the tender age of 10, a passion that only intensified as Neven went through his teenage years.
Neven trained in some of the highest profile restaurants in the world including Roscoff, Belfast (Michelin Star winner), Grand Hotel Berlin (Michelin Star winner), The Lea Linster Luxembourg (where he cooked for Lady Diana and Tony Blair) and Arzak, San Sebastian.
In 2001, Neven took over the family business, and turned a local restaurant into a national phenomenon. Located in the rural village of Blacklion in Co. Cavan, MacNean House and Restaurant has become one of the most talked about and frequented restaurants in the country.