The Westport Food Festival is only in its second year but already its making waves in the media, so much so there seems to be a song and dance about it!
The organisers behind the new festival decided they needed something to create a point of difference and win over hearts and minds ahead of the weekend in September and have produced a song and accompanying video to spread the word about the upcoming Festival.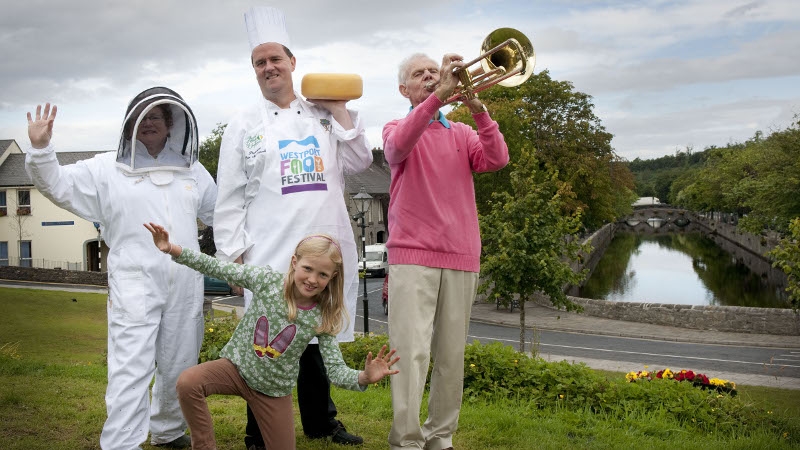 Beekeeper Ann Campbell; Eoin McDonnell, head chef, The Wyatt Hotel, Westport; Larry Hingerton, founder, Westport Town Band and Kitty Harburn (9yrs)
Food, Festival Food! is the name of the track which went live last night. A play on the classic Oliver! Musical track, the video and lyrics showcase some of the stars of Westport's food industry including beekeepers, chefs, fishmongers, cheese makers, alongside restaurant, bar and hotel owners and managers.
Some of Westport's historic town band members provide the soundtrack with the help of six Westport children Claudia Lennon, Conor Clarke, Jamie Byrne, Milo McManus, Sinéad Brogan and Kitty Harburn, who range in ages from seven to 11.
Fáilte Ireland will also help with marketing the video which the organisers hope will go viral and spread the word about one of Ireland's newest food festivals. According to organisers, the music video production is a first for a food festival and will uniquely present Westport and its food & hospitality credentials to an international audience.
The programme for the festival has also been launched with a whole host of innovative and different activities to excite foodies throughout the course of the Festival.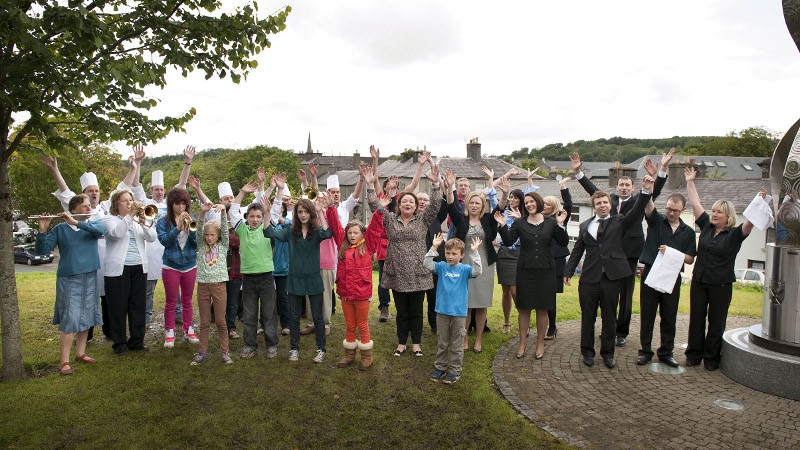 Some of the participants of the video who will help to establish the Westport Food Festival
Speaking at the announcement of the programme, Westport Food Festival chairperson Sinead Lambert Barroso commented "our programme for the second year of the festival, and the Food Festival Food! video, demonstrates that the Westport Food Festival is not just gaining reputation as a great food festival but, creatively, is establishing a real point of difference to other food festivals in Ireland".
Check out the Food, Festival Food!  video here on Youtube and for a full run-down of the programme and all the information that you need regarding the festival, log on to www.westportfoodfestival.ie . The Westport Food Festival takes place between September 21st and 23rd.