Glenisk, Ireland's award-winning organic dairy is celebrating its 25th birthday with the introduction of ' Pure Original ', a premium range of organic yogurts which contain only yogurt and fruit – and nothing else! Like all Glenisk organic yogurts, Originals are free from artificial or GM ingredients and synthetic chemicals – and they are also free from added sugar. The yogurts contains a  beneficial probiotic culture, 'l.casei', to help promote healthy digestion.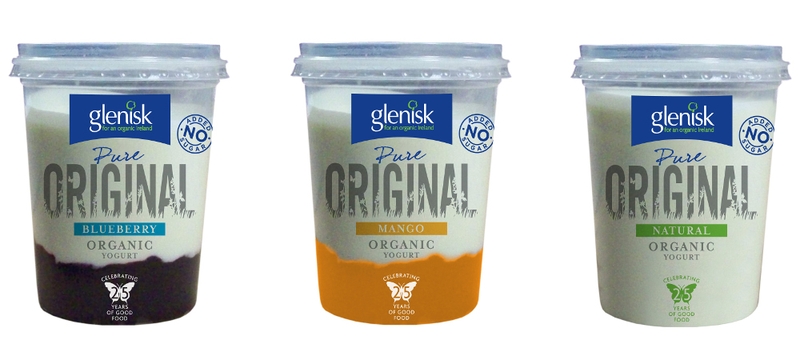 The range comes in a variety of flavours, Natural, Blueberry and Mango, in large pots of 500g, while a mango and pineapple version is available in four small multi-pots. All of them come in a clean, transparent pot and large pots retail for €1.99, while the multi-packs come in at a pocket-friendly €2.69. With Glenisk, what you see really is what you get!
Sugar-free, organic and free from any chemicals or GM ingredients, what's not to love? If that has not swayed you, the decadent layer of fruit at the bottom of the flavoured pots may sway you!
Glenisk MD, Vincent Cleary commented "creating new and better organic yogurts is our goal. Recently, we reformulated our baby and kids yogurts to remove refined sugar and the response from customers was so positive, we realised a demand existed for a similar range for adults. We're especially proud to launch our new Originals, with no added sugar, as we celebrate our 25th birthday this year."
Further information on all Glenisk products is available at www.glenisk.com , or you can become a fan of our www.facebook.com/gleniskorganic page to be in with a chance to win prizes and keep up with the organic conversation, or follow us on www.twitter.com/glenisk for daily updates.