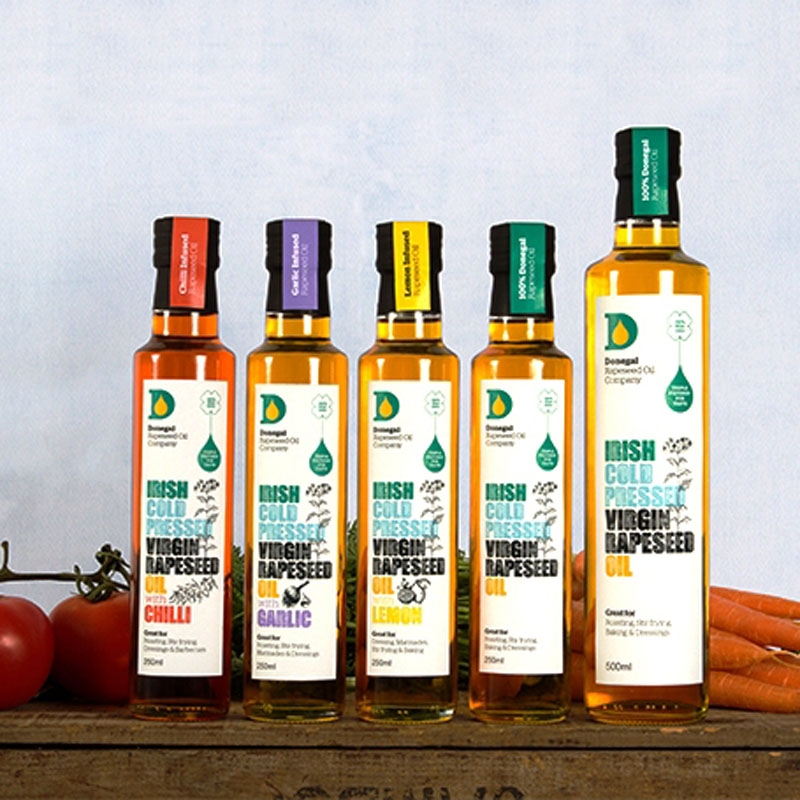 The fresh and distinctive new bottle and labelling may be different, but it's the still same award winning Irish pure virgin rapeseed oil, with the superior flavour that has become the oil of choice with lots of Irish foodies, as well as some of the country's top chefs.  
With a high burning point of up to 240°C, Donegal Rapeseed Oil is ideal for frying steaks, roasting, stir frying, as well as for salad dressing, and home baking.
Donegal Rapeseed Oil has less than half the saturated fat of olive oil, resulting in it being one of the healthiest culinary Oils in the market.  It contains no artificial colours, flavours, or preservatives, and is a natural source of healthy fats known as omega 3, 6, and 9.  Omega 3 and 6 are essential in the diet and are well known for their health benefits.  They help to maintain normal cholesterol levels in the body, which is important for a healthy heart and cardiovascular system.  It is a rich source of vitamin E, a natural antioxidant which helps to protect the body's cells from damage.
The Donegal Rapeseed Oil Range includes the original pure multi-award winning oil along with a flavour infused oil selection, in garlic, chilli, and lemon. 
Established in 2009 Donegal Rapeseed Oil Company uses rapeseed grown by carefully selected farmers throughout Donegal and Tyrone, and benefits from the ideal growing conditions of the region's unique soil and micro-climate, which results in the product's unique taste. The seed is cold pressed, filtered, bottled and labelled at a pressing facility near Castlederg, Co. Tyrone - making it a truly local product.
Donegal Rapeseed Oil is available in over 300 stores nationwide.  For more information go to www.donegalrapeseedoilco.com