Bord Bia launches Just Ask! 2013 and reveals research suggesting use of local produce is a huge consideration in diners' eating habits
New research from Bord Bia has revealed that supporting local businesses is a key consideration for members of the public when eating out.
Over two thirds (69%) of the population rated 'the use of Irish/local produce' as important when going out for a meal in the recent study. It also highlighted that a fifth of the population (20%) eats out at least once a month and 62% of us believe the supplier/origin of meat served at the venue we choose is important. Over half (57%) of Irish diners also believe it's important to include such information on menus.
The research was carried out to coincide with the launch of Bord Bia's Just Ask 2013 campaign, which encourages diners to look for information on where the food on their plate comes from. The campaign also urges businesses to provide this information on their menus. The Just Ask campaign was originally launched by Bord Bia in 2009 and has been embraced by the restaurant trade since then.

The research also revealed that if our restaurant experience is less than glowing, we're not a nation of shrinking violets with:
• 66% of people surveyed prepared to complain about the quality of food they're served
• 70% of people surveyed comfortable querying a cost item on a bill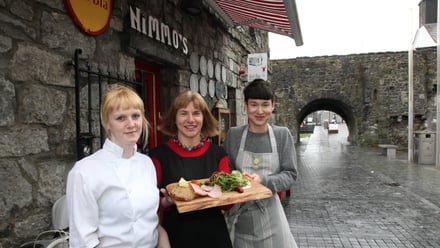 Niamh Fox, Head Chef Ard Bia Restaurant Galway, Maureen Gahan, Bord Bia and Aoibheann MacNamara of Ard Bia Restaurant Galway launched Bord Bia's 2013 Just Ask campaign
Speaking about the launch of Just Ask 2013 campaign, Maureen Gahan of Bord Bia said, "Since we first launched the Just Ask campaign, we have seen an increased commitment from restaurateurs and their chefs to inform customers where the food they're eating was produced. It's fantastic to see such a commitment by some of Ireland's top restaurants to sourcing products from local suppliers."
The campaign also includes the Just Ask Restaurant of the Month, selected by trusted foodie Georgina Campbell, which rewards eateries around the country that demonstrate 'best practice' in providing customers with information and committing to transparency with regard to the country of origin of the food served.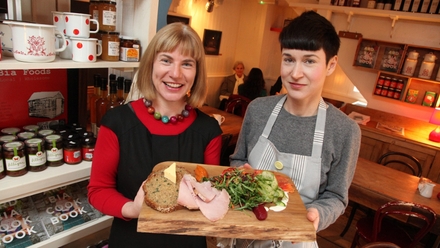 Maureen Gahan, Bord Bia with Aoibheann MacNamara of Ard Bia Restaurant Galway
Ard Bia in Spanish Arch, Galway – a café, restaurant and wine bar - is the 2013 Just Ask annual award winner. Speaking about the prize, owner Aoibheann MacNamara said, "At Ard Bia we cook everything in house. We strive to provide food that is 'Great for Galway'. When sourcing produce we think local, think fresh, think forage, think sustainable. We're fortunate to have amazing suppliers who think as passionately about their produce as we do".

"We want to remind diners about the Just Ask campaign and encourage them to check the menus in restaurants to look for the food origin information. If it is not written on the menu, then we would ask consumers to Just Ask.", concluded Maureen Gahan.

For details of previous award winners, log on to www.bordbia.ie.