The traditional Irish producer comes up with a new, Bord Bia-approved range of pre-packaged cooked ham.
A brand new range of pre-packed ham has been launched by beloved Irish brand Brady Family Ham.
The new product range contains the same award-winning taste and flavour that has long been established by Brady Family Ham in their Deli counter range, with new cooked and flavoured, sliced and torn options.
When Mary Brady began cooking and selling hams from her family kitchen in 1978, she couldn't have guessed that her secret recipe and curing process would still be in use 34 years later. Now, the company is achieving new heights, continuing as a family business of the O'Briens, who bought the brand when Ossie and Mary Brady retired in 2000.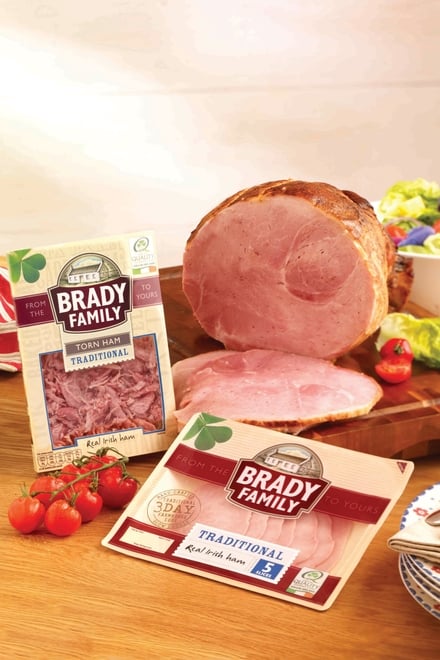 "The unique quality of Brady Family Ham is due to a combination of the best of farming, curing, crafting, cooking and dressing" said Bill O'Brien, MD, O'Brien Fine Foods. "We're very proud of our whole hams, and now we can be equally proud of our pre-packaged products".
The company, based in Timahoe, Co. Kildare, produces Bord Bia-approved Irish whole pork legs, which are cured on the bone for three days using traditional methods and a top secret Brady Family recipe.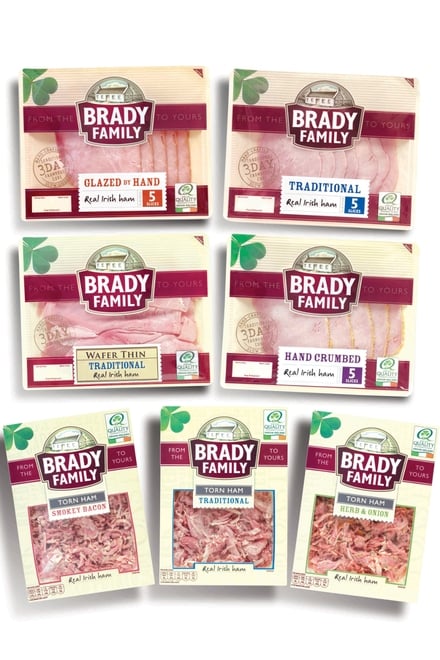 The company pride themselves on using traditional techniques to lock in flavour. Whereas other producers may add as much as 20% water during production, Brady Family Ham actually loses 15% of its original weight during preparation, creating a dry and traditional taste with succulent texture.
"Because our hams are produced from whole pork legs, there is a natural colour and texture variation – that's the sign of a real ham, produced with passion, to traditional methods" O'Brien added.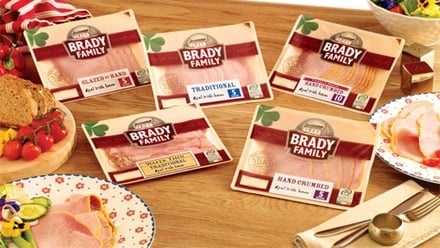 The Brady Family Ham Sliced range comes in a choice of five (€2.99 RRP) or ten slices (€5.99 RRP), in Traditional, Crumbed, Glazed or Wafer Thin Traditional styles.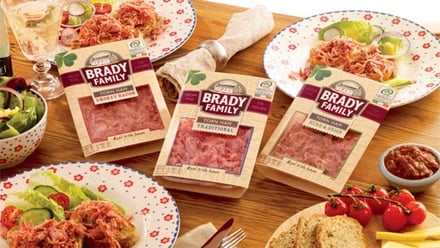 The brand new Brady Family Ham Torn range is a welcome addition to the markets, perfect for lunchboxes, mid-morning snack attacks and even in a late night frittata or accompaniment of a cheese board. At €2.99, you have a choice of a variety of flavours – Traditional, Herb & Onion and Smokey Bacon.
We particularly love the Herb & Onion flavour, which is versatile enough to transform a lowly sandwich as good as it is injecting flavour into a plain pasta dish.
Brady Family Ham products are available in all good supermarkets nationwide.