It pays off to discover what you pass by regularly...
If, like me, you have often passed by various Dublin sights on the Dart or Commuter and wondered what they were, it's a delight to find something really special hidden inside one of them.
The Bridge Bar & Bistro is set under the railway bridge on Clanwilliam Terrace in Dublin 2. Between Grand Canal Dock and Landsdowne Road on the rail line, trains pass by the central location every few minutes, yet the restaurant makes the most of its unique location and viewpoint, nestled adjoining the vaulted archway.
The Bar & Bistro is owned and operated by Martina Fox, who rose to the helm of the business three years ago and has transformed the food offering to new heights. Fox has skilfully curated and designed dishes across their menus to suit the wide variety of customers who pass through the Bistro's door.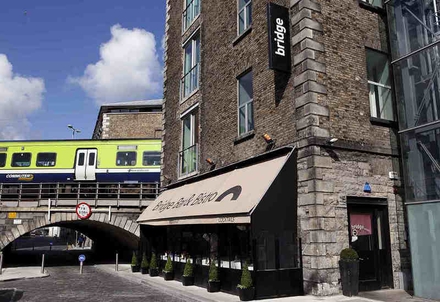 The Bridge boasts a full Á la Carte menu, as well as a pre-theatre menu and set lunches and party menus. The unique location caters to a wide variety of locals, tourists and office workers, which their choice of menus reflect.
Some of the special offers include a set lunch menu of two courses for €20 and three courses for €25 and a Pre-Theatre menu with the same prices by course, available between 5pm and 7pm. Perfectly situated close to the nearby Bord Gáis Energy Theatre and the Aviva Stadium, it's good for a bite before or a tipple after taking in a show or concert.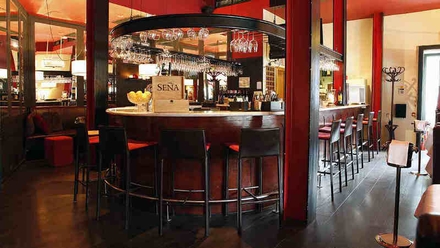 An outdoor terrace provides a cosy and refreshing dining experience on the cute cobbled street, if you're brave enough to take your chances on the Irish weather or there are snug booths and warm surroundings inside for a cold Winter's evening meal for two.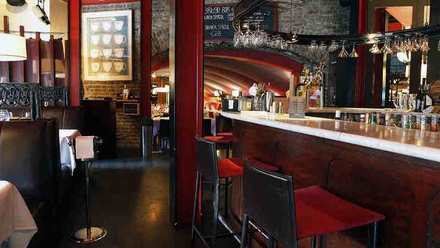 The kitchen team, under the watchful eye of Martina, produces high quality food using the best of Irish ingredients. Daily specials reflect what is fresh and seasonal, and all the bread is baked in-house.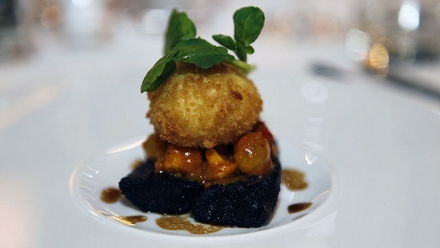 Pan-fried black pudding, crispy hen's egg, spiced cauliflower, watercress €9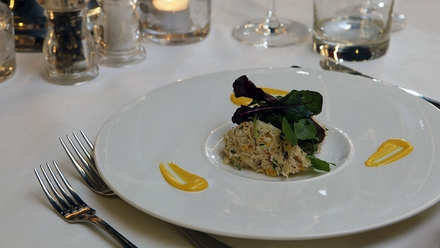 Clogerhead crab, saffron aioli, garlic croute, baby leaves €10
Starters on the Á la Carte menu are expertly crafted, see above for two examples. However, the star of the show is the 38oz Porterhouse steak for two people sharing. A favourite of regulars, it's a very healthy €60, and it is served with a choice of two sides and a selection of sauces.
A particularly nice touch is the selection of sides, most of which are inspired by Irish spuds and greens, with potato and green vegetables produced in a variety of meal accompaniments, including buttered asparagus, minted peas or humble mash.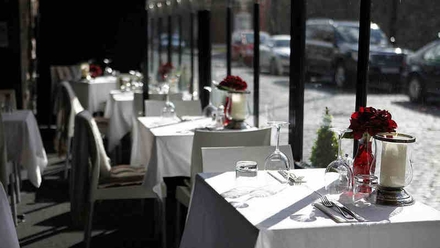 Also, in keeping with the seasonal produce, one of the stand-out desserts is the seasonal fruit and yoghurt semifreddo with honey mascarpone and tuile biscuit for €7.
Without doubt, the Bar provides an extensive wine list to match your meal, as well as a selection of beers and a cocktail menu, perfect for an aperitif or a digestif to complement a meal.
The Bridge Bar & Bistro, The Malting Tower, Grand Canal Quay, Dublin 2. (01 639 4941). For more information, visit their website
The Bridge Bar & Bistro is open six days a week, Monday- Saturday, lunch is served from 12-3pm (except Saturdays), and evening menu served from 5-10pm.