Rozanne Stevens gives us the low down on one of Ireland's most important fisheries, lobster!
Lobster is traditionally considered a delicacy, pricey and reserved for posh restaurants and special occasions. Surprisingly, in these economic times, lobster is becoming more and more sought after. Food trends and times are a changing with trendy eateries like Bite in Dublin making this gourmet ingredient accessible and contemporary for the consumer. Ditching the heavy old fashioned Lobster Thermidore and serving fresh, succulent lobster burgers or lobster salad rolls at a reasonable price. Read on and I'll share their recipe!
And in my cookery classes, I can see a huge upsurge in people wanting to learn how to cook fresh seafood, especially lobster and crab. I encourage students to visit their local fishmonger or fishing harbour to pick up the freshest specimens. I often pop down to the Ice Box in Dun Laoghaire pier, Bulloch Harbour in Dalkey or Howth and pick up a big lobster for €25 to €30. Cooking lobster is actually very straight forward and I think best served simply with melted garlic butter or homemade mayonnaise. It is so delicate and delicious, it needs very little.
As a lobster lover, I am really looking forward to the Dalkey Lobster, Crab and All That Jazz Festival between August 24th and 26th. A whole festival devoted to three of my favourite things -pass me my lobster bib! And on 12-14th October, the annual Kinsale Gourmet Festival takes place. This is my favourite food event of the year, and it is all about lobster, crab and incredible local seafood. Three days of feasting and fun not to be missed!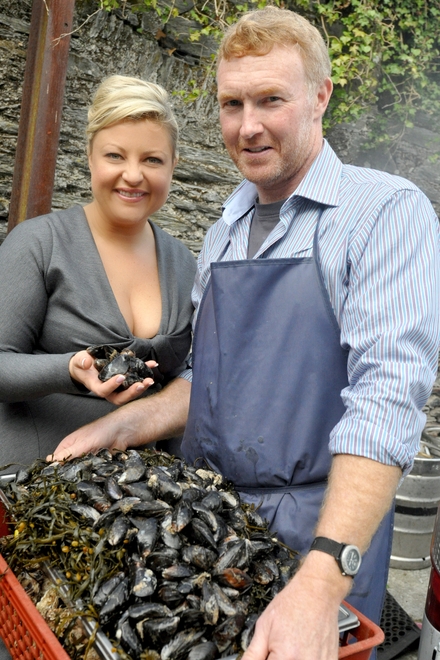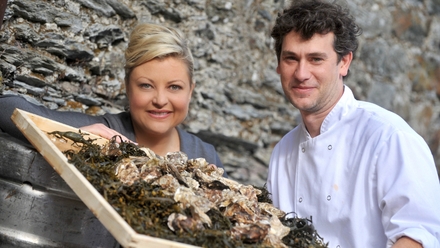 Rozanne with some of the great chefs and producers from last year's Kinsale Gourmet Festival
Economically, lobster is a very important fishery in Ireland. There is no limit or quota as to how many lobsters can be caught. But it is up to fishermen and consumer that lobsters are a certain size when sold, so that they've had the chance to reproduce at least once to replenish the lobster population. In layman's terms, the section of the lobster after the head, the hard back shell needs to be the length of a business card when you purchase it.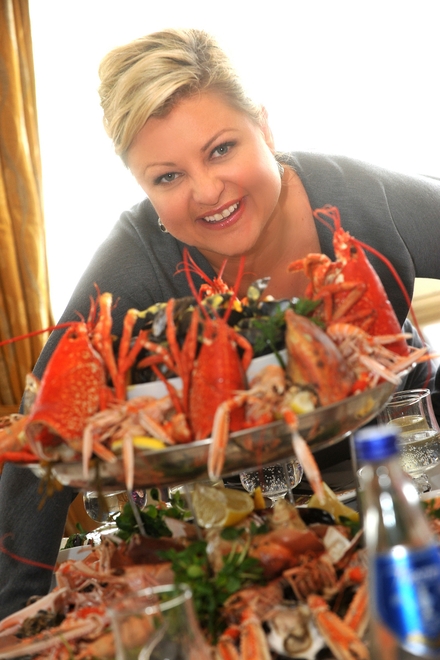 When it comes to cooking lobster, you need to start off with a fresh, live lobster. Once dead, lobster and crab perish very quickly and produce toxins that can be lethal. Cooking a live lobster can be disturbing for some people so there are a couple of options to make the process more humane. You can pop the lobster in the freezer for up to two hours before freezing it. Malcolm Starmer, head chef of Bite, prefers the method of inserting a sharp chef's knife through the cross on the back of the lobster's head. This severs the nerve centre instantly.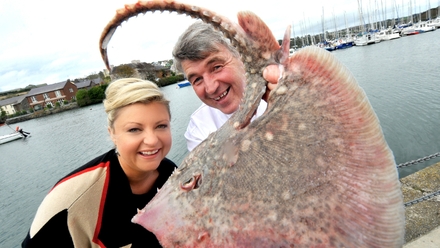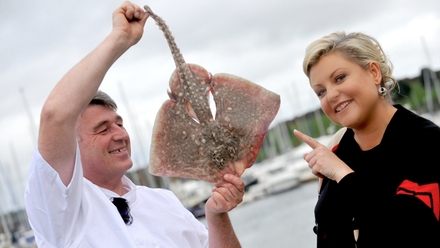 Rozanne with another seafood enthusiast, RTÉ's very own Martin Shanahan
To cook the lobster, bring a large pot of salted water to the boil. Drop the lobster into the pot and boil, allowing 8 minutes per 450g/lb. Once the lobster is cooked, the pigments in the shell will turn a deep terracotta colour. If you've never shelled a lobster before, I suggest an experienced person showing you or watching some visuals, www.lobsters4u.com is just one of the many websites that will show you step by step how to do it. It gets easier with practice!
If you want to try out lobster for yourself, have a look at Bite Dublin's delicious and simple lobster burger recipe. We promise it won't disappoint! See the full recipe here on RTÉ Food.
All images (c) John Allen
Useful contacts:
Irish Sea Fisheries Protection Authority
Bite
(@BITEdublin)
Dalkey Lobster, Crab and All That Jazz Festival
(@LobFest2012)
Kinsale Gourmet Food Festival
(@KinsaleNews, @kinsale_ie)