French blogger Garance Dore has been chosen and revealed as the face of Net-A-Porter for its coming season.
The high-profile blogger, photographer and illustrator began her web-publishing career in 2006
Due to her established career in blogging, not least her slew of front row appearances at top fashion shows, Net-A-Porter chose the quirky, yet impeccably stylish, Doré to front its next campaign.
Speaking about the campaign, the first images of which were released today, she said "It's the kind of stuff that happens only once in your life, that you get that call. 'Hi, would you be interested in modelling for our fall-winter 2012 campaign?' Sorry, you mean, your campaign, campaign? 'Yes, Patrick Demarchelier is the photographer.'"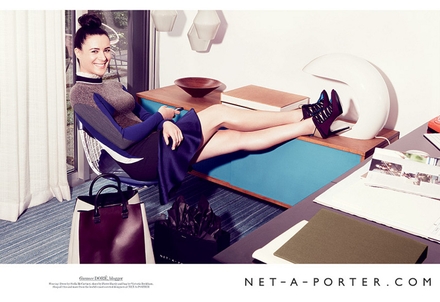 Doré explained the process in her latest blog post, 'Fast forward a few weeks later, here we are, Patriiiiiiiick and I, talking about vacation. The wonderful stylist Ludivine Poiblanc is pep-talking me, "but of course, you will fit in that dress" and Kate Young and Amanda de Cadenet, the two other models of the campaign are getting prepared...'
'The whole team is wonderful. Everyone is nice, talented, warm, everybody's taking care of us, we get pictures we will remember all our lives done (Patriiiiiiick!) we get to wear clothes we adore (Stella, Pierre Hardy and Victoria Beckham !) and we are sent back home (chauffeurised, of course) telling us a million thank yous'.
Doré could hardly contain her excitement, saying 'IT'S GONNA BE PUBLISHED IN THE MAGAZINES AND WEBSITES AROUND THE WHOLE WIDE WORLD'.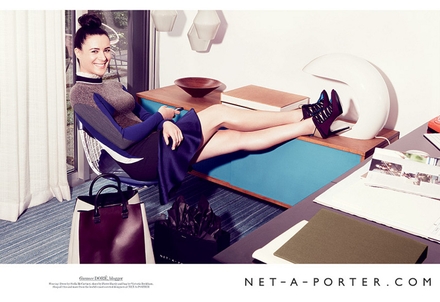 Doré is no stranger to stardom in the blogosphere, not only is her blog seen by millions, she is also one-half of a power-blogging couple. Her partner, Scott Schuman, is the man behind The Sartorialist. The duo are seen as the top street style photographers and bloggers in the world.