Kanye West and Kim Kardashian's Vogue USA cover has been revealed with Kim tweeting that it's a dream come true.
Kanye has reportedly been trying to get Kim on the cover of the fashion bible for quite some time now and it seems he's managed to make it happen with Vogue releasing an image of the engaged couple on the cover of their April edition.
With the pair set to wed in May, the cover is wedding-themed with Kim wearing a long wedding dress. The colour theme is bridal with champagne, gold and white. The cover reads, "Kim & Kanye. Their fashionable life and surreal times #worldsmosttalkedaboutcouple."
Kim took to Twitter to share the picture saying, "This is such a dream come true!!! Thank you @VogueMagazine for this cover! O M GGGGG!!! I can't even breath!"
Kanye's tweet was more low key with him tweeting the image and the caption, "#TRILL"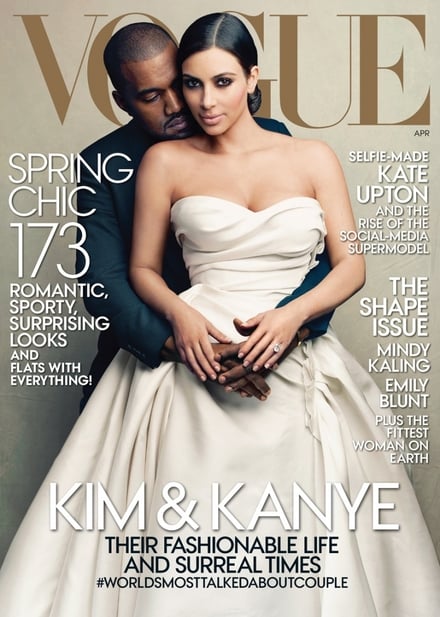 While the cover has met mixed opinions online, Vogue editor Anna Wintour defended her choice to include the pair in her editor's letter saying, "Part of the pleasure of editing Vogue is being able to feature those who define the culture at any given moment, whose presence in the world shapes the way it looks and influences the way we see it. I think we can all agree on the fact that that role is currently being playing by Kim and Kanye to a T (or perhaps that should be to a k?)
"There's barely a strand of the modern media that the Kardashian Wests haven't been able to master. Kanye is an amazing performer and cultural provocateur, while Kim, through her strength of character, has created a place for herself in the glare of the world's spotlight, and it takes real guys to do that. As for the cover, my opinion is that it is both charming and touching, and it was, I should add, entirely our idea to do it. You may have read that Kanye begged me to put his fiancé on Vogues cover. He did nothing of the sort. The gossip makes better reading, but the simple fact of the matter is that it isn't true."