Karl Lagerfeld has likened model Cara Delevingne to a character from a silent movie, dubbing her the Charlie Chaplin of the fashion world.
The legendary creative director and designer told The Sunday Times of Delevingne, "She's a character. She's the Charlie Chaplin of the fashion world. She is kind of genius, like a character out of a silent movie. I would see her better in a silent movie than a talkie because she over-accents the movement. Girls admire her like the used to Kate Moss. They all want to be as free as her."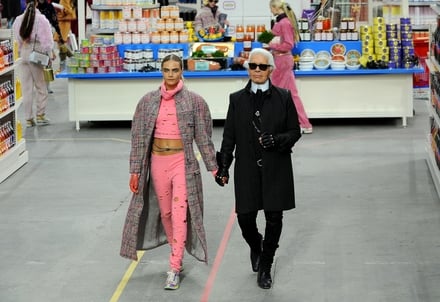 Cara Delevingne and Karl Lagerfeld close the Chanel PFW show.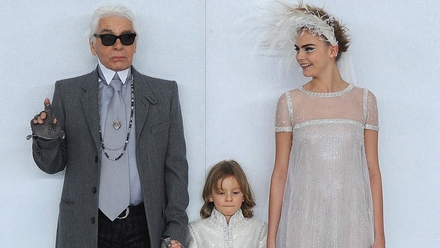 Lagerfeld, Hudson Kroenig and Cara close the Chanel SS'14 Couture show.
Lagerfeld also passed comment on some other high profile women saying of supermodel Kate Moss, "She's the free girl of our times. And she was not living on Vichy water all her life."
On Victoria Beckham he added, "She can look cold, but she is not, she's cheerful."
And on the Queen Lagerfeld weighed in, "Nobody does the job better than she does. She is never ridiculous. She is flawless. For this job, in our day, she is perfect. She's not supposed to be a fashion icon who is changing fashion. The Duchess of Cambridge can do that. Kate is chic in a classic way, but sometimes, with her Philip Treacy hats, Camilla is wilder. I know people who know her. Apparently, she's full of wit and spirit."