Friday, April 23rd, is ladies day at the Punchestown Festival and the best excuse to get all dressed up. Georgina Heffernan offers some style tips.
It is one of the biggest days in Ireland's social calendar, the day when our most stylish get out their gladrags, put in their rollers and book a spray tan. And that's just the men. With Cheltenham out of the way it's time to focus on the Punchestown Racing Festival, which kicks off on April the 23rd - and signals the start of the summer racing season. Ladies day is recognised as a highly competitive event - not only for the horses but also for the visitors, as they dress to impress judges who will be making their way around the crowds on the look-out for the most eye-catching outfits.
Always a winning day out for fashionistas, in recent years dressing up for the occasion has become even more fun thanks to the fantastic prizes on offer.This year the race is on for the finest filly to win a shopping trip of a lifetime. The best dressed lady at Punchestown will be jetting off to New York, Madrid and London courtesy of fashion label Coast. But what looks are hot to trot this season? Luckily, the high street is offering more ways than ever to glam up for the big day.
Black-and-white outfits, in stripes, polka dots or emerald tones, are proving to be this seasons big fashion story, and anything in lace or metallic is a good standout alternative. Form fitting dresses are the must-haves for this season's racegoers - and look fantastic with a piece of statement jewellery - but don't dismiss spring's gorgeous tailored suits for a classic look that's versatile, too. The best advice is to stick to classics because there's just nothing worse than novelty dressing.
Metallic leather skirt at Marks & Spencer
Of course, no racing ensemble is complete without a hat and the great news is that you really don't need to spend a fortune on a great one either; after all, not everyone can afford Philip Treacy. Highstreet stores such as Marks & Spencer, Debenhams and Accessorise offer fantastic headpieces and the styles are up-to-the-minute. But if you want to spend a little more, there are plenty of hire shops springing up all over Ireland. Ruby's hat hire in Tramore is a good range of millinery and Frock & Fabulous in Dundrum has a sublime selection of hats from some of Ireland's leading milliners.
Footwear, of course, is the most important accessory - get it wrong and you'll suffer a lot more than mere indignity! It needs the delicate balance between practicality, comfort and high fashion it's not a line easily trod, trust me, I know. Don't forget you are likely to be on your feet all day, unless you plan just to remain in the bar or restaurant. Wedges are a non negotiable must for walking on grass, in stilettos you'll sink down into the mud and wind up dragging half of Kildare around with you, when you're trying to get into the winners enclosure.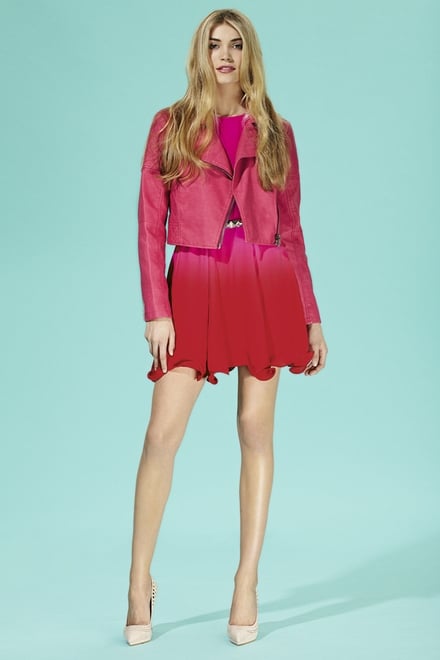 Debenhams dress €63, jacket €89
Finally, if you are going to Punchestown or any of the other exciting Ladies Day events do by all means, follow fashion but not slavishly. Judges are always looking for an outfit with a little originality and splash of personality, so don't be afraid to make a statement. Take a risk. Dare to be different –and do remember to have a little fun. Why should the horses get all the attention?
Georgina Heffernan