Mugler's creative director parts ways with the company he has helmed for two years.
The 25 year-old Italian stylist and editor announced his departure from the label yesterday, which he joined in September 2010.
Best known for his styling work with close friend and collaborator Lady Gaga since 2009, his work with the label saw a rebrand of the fashion house simply under the moniker Mugler, as well as introducing a menswear line. Using pop culture icons like Justin Bieber, Gaga and Rick 'Zombie Boy' Genest to promote the brand, Mugler gained a cult following from a younger generation.
Though Formichetti has not released a statement on his departure, Mugler have praised his talents for "attracting a new audience" and that his work "will be a historical part of the Mugler legacy and known as the force that catapulted us forward".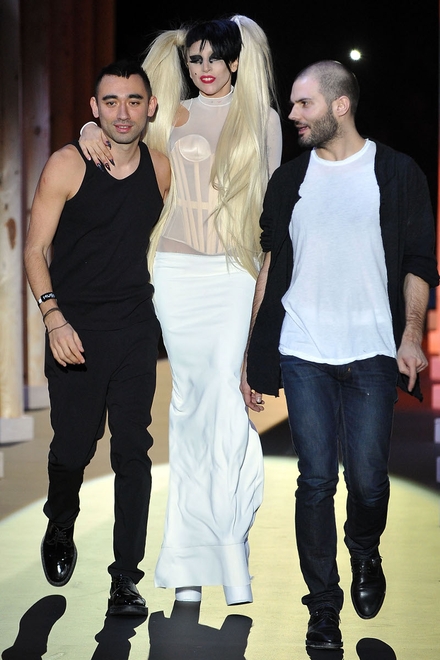 Gaga modelled for the brand during a runway show in 2011, pictured here with Nicola and co-designer Sebastian Peigné
"Its was a great 2 years at MUGLER. hope you all enjoyed our journey together. but now its time to move on!! (sic)" Formichetti tweeted yesterday, followed by a number of his memories and favourite moments from career at the brand.
His print career has also suffered a blow within the last year. The celebrated editor helmed Vogue Hommes Japan which folded and ceased publication following its Autumn/Winter 2012 issue. Its publisher, Condé Nast, reportedly changed tack and wanted to focus on the international GQ Style brand instead. He continues to contribute to titles like Dazed and Confused and i-D.
Formichetti remains the creative director of Japanese high street brand Uniqlo and has hinted that an announcement will be made soon about new projects he is working on.