If you're thinking of rushing out to buy your nearest and dearest some racy red underwear this Christmas, your relationship may not see in the New Year.
Sadly, your idea of sexy and our idea of sexy are two entirely different things. So if you value your relationship we suggest you take a few tips from our lingerie guide...
Across Ireland this Christmas, thousands of women will receive gifts of lingerie from their partners. Having spent hours loitering in underwear departments feeling conspicuous, he will feel sure that, this year, he has got it right. She, confronted yet again by something monumentally horrid, will spend St Stephens Day taking it back to the shop. Men buying underwear has always been a hit or miss affair, but the pressure is really on at Christmas.
It's a scene acted out every December, as embarrassed guys hover nervously around lingerie departments looking for sexy gifts while trying not to be taken for a Peeping Tom. Inevitably, as the silky lingerie is unwrapped on Christmas morning the man's face lights up in expectation and the woman's falls. Too much leopard print. Tassels. Lashings of lace. Too tarty. Or, heaven help us, too big!
Women will either end up queuing up to return the unmentionables or stashing them firmly at the back of their knicker drawers. And baffled boyfriends and husbands will wonder what happened to their gifts - and their frilly fantasies. Buying sexy underwear for wives and girlfriends is easy enough - if that means dashing into a random shop on Christmas Eve and buying a mismatched knickers and bra, both in the wrong sizes .So how can men sort their G-strings from their girdles this Christmas?
If it's tarty and tacky with a scratchy lace trim and made of naff red satin, men reckon we ladies will adore dressing up in it for them. But they're wrong. What women want is something sexy, yet comfortable and practical. Thongs of the cheese-wire variety are to be avoided at all costs. The thing is that men are great at choosing what they would like to see a woman wearing, but hopeless at choosing what she would like to see herself in. Believe it or not, what women like and what they are prepared to wear can be two different things. Yes, women are a confusing bunch at the best of times but we, generally, know what we want when it comes to lingerie.
Glamour is everything, but only if it is comfortable. Bras, pants, thongs or G-strings in sexy micro fibre or mesh will never fail. Lace is good - but only if it's the best - no tacky synthetic stuff that looks cheap and disintegrates after washing .Women are nothing if not practical, so when it comes to underwear they want something that, not only, looks beautiful but will do the job. Fit is all important so it makes sense to get her bra size before you do hit the shops.
As comfort is a top priority, basques, corsets and suspenders may look sexy in photographs, but for a modern miss they're just not an option. Silk or tulle both look and feel great. But you need to be practical. A harassed mother of three is not going to find time to wear a bodice with strings that much. Life is too short to fiddle with all those hooks, eyes and attachments when we now have brilliant hi-tech fabrics that will help underwear stay in place without inflicting pain and causing hassle.
Top lingerie brands, such as Victoria's Secret or Anne Summers can, sometimes, look too saucy (they've both referenced 50 Shades of Grey for their latest advertising campaigns), so it's better to go for something a little more romantic if you really want to impress. The best places to stick to are generally the market leaders such as Marks & Spencer or Debenhams designer lingerie collection.
Calvin Klein, of course, with their ultra-hip sheer range in every colour from flesh to fuchsia is a winner. Lejaby are brilliant if you're other half wants an extra uplift and Elle Macpherson's Intimates range is also very pretty, if a little on the small side. But if you really want to impress, go for the top- of-the-range lines by Aubade, Susan Hunter, Agent Provocateur, Myla and La Perla.
After all, Christmas is about giving little luxuries, so, if you can afford it, spoil her.
Georgina Heffernan
Here's a selection of our top high street lingerie picks.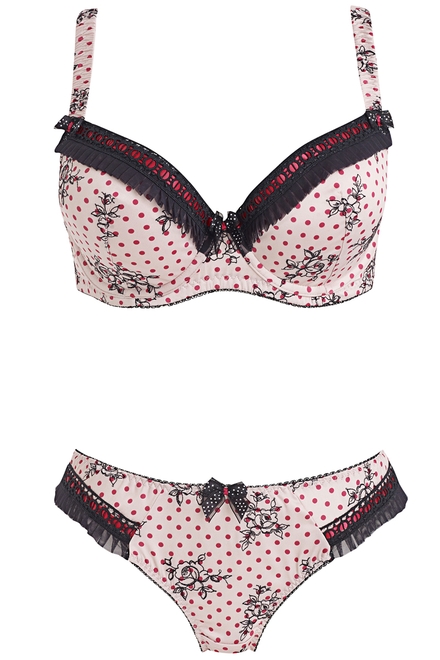 Bra €37 briefs €14 at Debenhams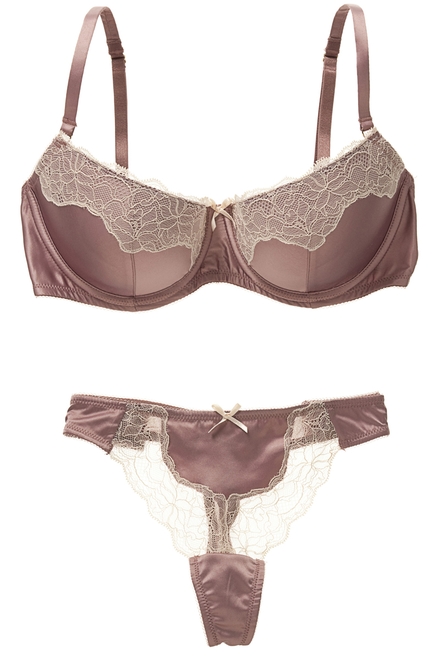 Celestine Lace Trim Bra €8, Thong €4 Penneys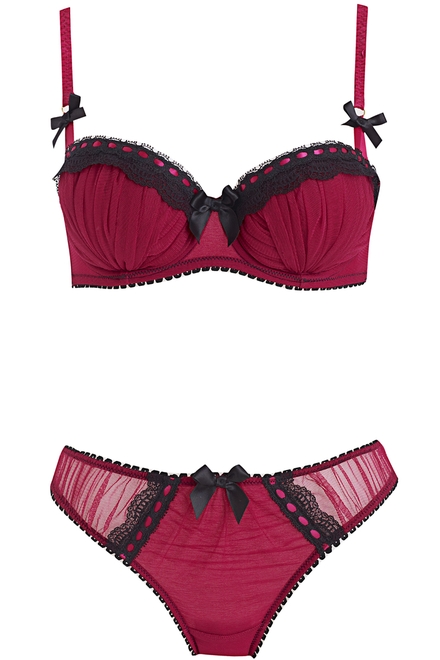 Reger by Janet Reger bra €31 briefs €16 Debenhams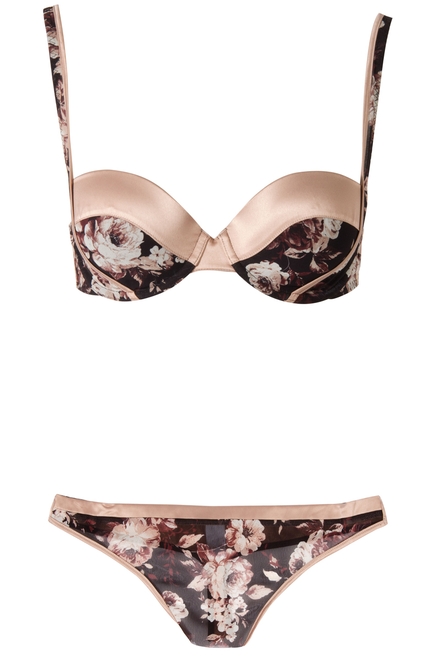 Vintage rose printed chiffon bra €12 Thong €4 Dunnes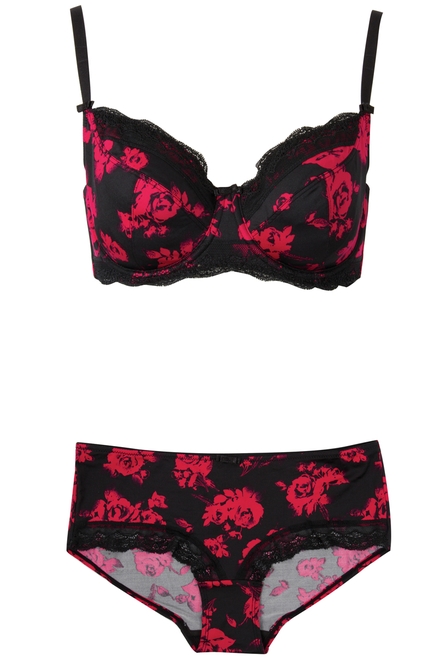 Red Rose Bra €12 Hipster €5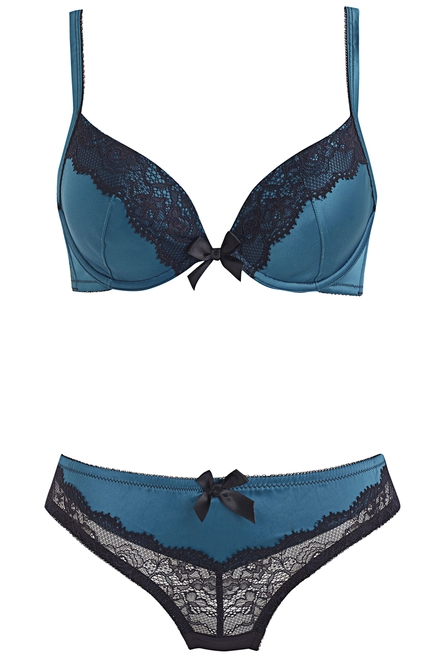 Reger by Janet Reger bra €35 briefs €16 Debenhams