Cara Delevigne, British model of the moment and face of Pepe Jeans, talks about her career, life and style.
What do you think to be the new 'It girl' and face of Pepe Jeans which is celebrating its 40 anniversary, having in mind other it girls such as Alexa Chung, Sienna Miller or Laetitia Casta who also played a main role in past Pepe Jeans campaigns?
I'm very happy to be part of the team, considering the line up before me. Alexa and Sienna are also great friends of mine.
Who is your favorite of them or who do you think is more similar to you in style terms?
My style is a mixture of both although I'm more tom boyish than either of them. They dress very casually, but still look very chic all the time.
Having started life on the streets of London's Notting Hill and constantly taking inspiration from London's cultural roots for its collections, Pepe Jeans London is gearing up to celebrate their 40th anniversary this year. How would you congratulate the brand for its 40th birthday?
It's an amazing achievement for a brand to be around this long,
Congratulations!!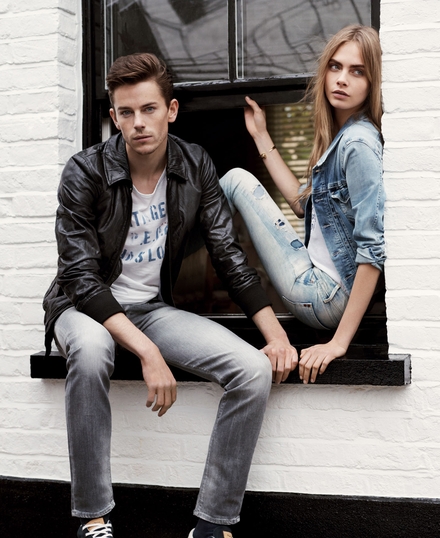 What song would you chose to celebrate the 40 anniversary of Pepe Jeans London?
Bohemian Rhapsody
Tell us about shooting the Pepe Jeans London campaign? How was it?
It was great, I worked with Josh Olins who is brilliant and lovely, I loved the whole team so much, they are all brilliant.
Describe Pepe Jeans London in five words.
Timeless, cool, effortless, chic, casual
Which are your favorite pieces from the Pepe Jeans London SS13 collection?
I like all the skinny jeans in the different colour ways, especially the pale blue and all the cool Andy Warhol tops.
What are your staple wardrobe denim pieces?
Definitely skinny jeans, and if I'm feeling jazzy then maybe I'll wear Double Denim…
Which item in your closet would you save first in case of fire, and why?
Definitely my leather jacket!
Fashion, what a word plenty of meaning, what does it means for you?
For me, it means the biggest, most unconventional "family" and support group which I could never replace.
How has modeling changed your life?
I now know a lot more about fashion, I have a lot more clothes, beautiful clothes, and I have made some special friends and travelled a lot.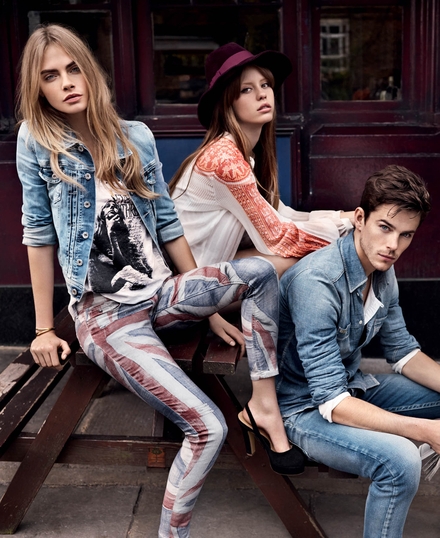 What do you like most about your job?
Travelling, the people I meet and the people I work with.
You are featured in lots of different fashion shoots, wearing high end designers to high street, describe your own personal style.
I'm a Tomboy by day, and for the red carpet I pick a character and project that person. I can wear anything and feel allright if I can make that part work.
What advice do you have for other aspiring models?
Don't let people knock you down, keep grounded and be happy and have a great agent - and have a good relationship with them.
Who are some of your favorite models and why?
Kate Moss and Naomi Campbell, and also Jean Shrimpton and Twiggy, all very iconic and individual.
What do you think distinguishes a good model from a bad one?
It's not just about looking pretty, it's about capturing the character that the client wants, it's about being a chameleon.
What's your best fashion week memory ever?
Opening the Chanel show in Versailles was exceptional, you only get to find out if you are actually opening the show moments before, and it's nerve wracking and thrilling and brilliant.
What's the best style lesson you've ever learned?
I'm still learning and I like to be myself.
How would you describe with only one word London Fashion? And NY fashion? French fashion? Please choose one adjective to each of the most important main fashion cities.
I need more words!! for London it's original, creative, iconic, influential, graphic. NY is unique, edgy, definitive, organised, and Paris is classic, elegant, timeless, tres chic.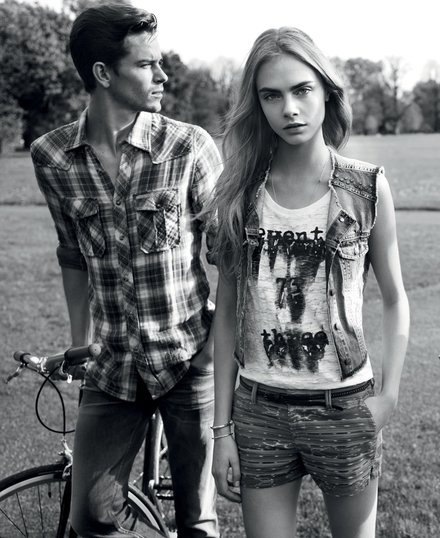 You are known for playing many roles: you're the sex bomb on the runway and the funniest girl on the planet backstage. Are you really this way or this is some kind of acharacter?
I'm still very young and changing all the time. I am learning and growing, and it depends how I feel, sometimes I will be the sex bomb but most of the time I'm the funny girl. Since I was young I wanted to entertain people so no matter what I'm doing I'm always going to be the entertainer. I always like to have fun.
If could choose a century to live in, which one would it be and which role would you like to play in it?
Coco Chanel, Cleopatra, Mary Queen of Scots (without the beheading) or Joan of Arc, I would love to play all of them in films.
Who is you favourite British fashion icon? Which famous Londoner's do you think have great style?
Kate Moss, Sienna Miller and Alexa Chung.
Will you be wearing coloured jeans this SS? If so what colours?
I'll be wearing really light blue jeans, but I love any coloured jeans, I would love some multi coloured jeans.
What's your favourite way to style skinny jeans?
Oh I just wear them with trainers or boots, t-shirts and my leather jacket.
Although you are The Model of the Year (British Fashion Awards) you also have acting ambitions and you play the drums. What makes your heart beat faster: acting, modelling or playing the drums? Any more hidden talents?
I love to sing, and obviously playing the drums makes my heart beat loud, it's incredibly physical. Playing Anna Karenina was probably the best days of my career and made me want to do a lot more acting.
With this in mind who are currently your favourite music artists/bands and what is your all-time favourite movie?
True Romance, Rihanna, Azealia Banks, also a lot of my friends are great musicians, and I love Al Green, Marvin Gaye and Lauren Hill.
After making your debut at the Victoria's Secret Show, you claimed the title of Model of the Year at the British Fashion Awards, and has been labeled "the new Kate Moss" by Mario Testino. How does it feel like to be seen as the "next big thing"?
It's crazy to be even be considered in the same calibre as Kate, it's a huge compliment but scary even to be mentioned in the same breath.
You are a strong young woman, what's the best advice some one has ever given you?
Azealia told me to keep my mouth shut and to just get on with things and to finish the job.
The more success grows, the more visible you are and the more judgment there is. How do you cope with that?
I have a great support network, my family, my model agency Storm, people I work with in the fashion industry and of course all my followers on Twitter who stop me from feeling lonely, I love them all, they keep grounded.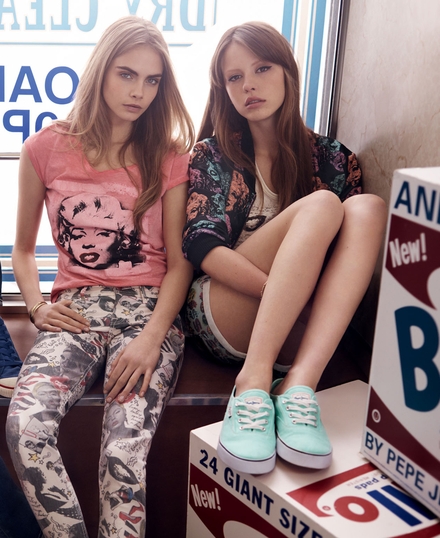 Being so young, and working in the same industry as your sister, is she your role model? Who is the one that gives better advises to the other? Do you enjoy working together?
I always look up to Poppy, she's always there for me giving me the best advice, I couldn't have done so much without her.
Which fashion job would you love to get?
Chanel cosmetics!! and I would love to design my own range of t-shirts, really beautiful and simple t-shirts, I love them and wear them all the time and I can never find really plain ones. The devil is in the detail.
Where do you see yourself in five years?
Living on a desert island catching fish and growing vegetables...and also with a couple of albums and some movies under my belt!