Is your skin-care routine in need of a change up? We tried and tested a whole range of Skinceuticals products in our quest for clear, healthy skin.
After being introduced to Skinceuticals by Nuala Woulfe at her spa in Glasthule I was keen to try out the skincare prescription she had devised specifically for my skin type.
For as long as I can remember I've had rosy red cheeks and combination skin and while there are countless products out there for my skin type, I've never had an overall routine that has made such a difference as this one.
Before I began, I decided to step away from every other product that I'd been using pre-Skinceuticals and I limited myself to only using the products that appeared on Nuala's prescription and the results were noticeable within a week. Three months on and I've noticed a huge difference in how my skin looks and feels and going make-up free on occassion is something I'm now totally comfortable with.
While the new routine was more time consuming than my lazier one previously, I stuck with it and I am so glad that I did. My skin is nowhere near as red as it has been all my life, my pores are minimised and even when I do get the odd spot I've noticed it heals a lot faster. I always feel you know if something really works when your friends and family members start to take notice and for once in my life people have been complimenting my skin...and it feels great.
Morning routine:
1. Gentle Cleanser (€31.50) – work into face and neck for 30 seconds using fingertips and remove with a clean wet white face cloth. To be used morning and night.
I love this cleanser, it's mild, it's light and it smells great. Nuala advised me to buy a pack of white face cloths so a clean fresh one can be used each day, this was really important as you don't want yesterday's dead cells and dirt going back on your face – that might sound too simple to be worth pointing out but I've definitely been guilty of not changing my face cloth regularly enough in the past.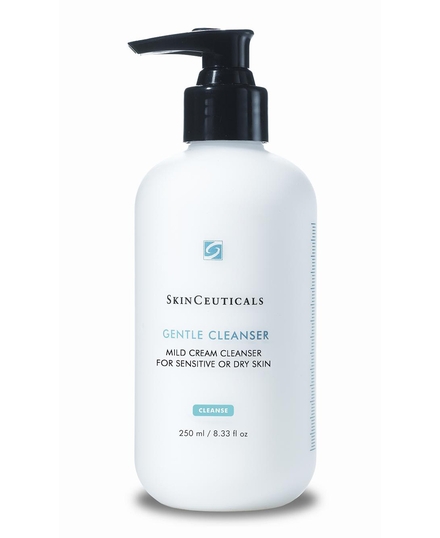 2. Equalizing toner (€31) – spray on to a cotton pad and rub over face and neck. To be used morning and night.
This pore-refining, alcohol-free toner was developed to balance, refresh and restore the skin's protective pH mantle while exfoliating away dead skin cells. I have to say this toner is one of my favourite products in the collection. I love how refreshing and soothing it feels and it's anti-inflammatory ingredients helped to reduce my skin's redness. No exfoliator was added to my prescription and I thought I'd really miss the feeling of getting a good deep scrub going, but this gentle toner did the same job without being too abrasive.
3. Serum 10 (€78) – apply four drops over face, neck and chest every morning, allow to absorb for at least 30 seconds before apply sun protection, but leave for longer if you can.
Serum 10 was developed to provide antioxidant and anti-ageing benefits, it is ideal for sensitive skin and it defends against environmental damage. I'm a big fan of Serum 10, it's quick and easy to apply and I love that I can actually feel it working. When possible I would leave the serum on my skin for a few minutes to allow it to absorb fully and I found it would give my skin a nice healthy glow straight away.
4. Eye Cream (€63) – apply in the morning and evening around the eye area, avoiding the lids.
A firming treatment to help combat skin damage and puffiness, I found this eye cream to work really well and if my eyes ever felt dry or irritated, dabbing a small amount of this underneath my eyes was very soothing and relaxing. I also found that putting a small dot of the cream through my eyebrows looked great.
5. Ultra Facial Defence SPF50 (€30.50) – apply as moisturiser every morning.
This UVA/UVB broad-spectrum moisturising sunscreen helps to prevent collagen breakdown and photo damage. The science behind this moisturiser is great, it's so protective and great for your skin, but after my month of strictly no non-Skinceuticals products lapsed, I found myself eager to get back to my original Lancome Hydrazen moisturiser as I just prefer how it feels on my skin.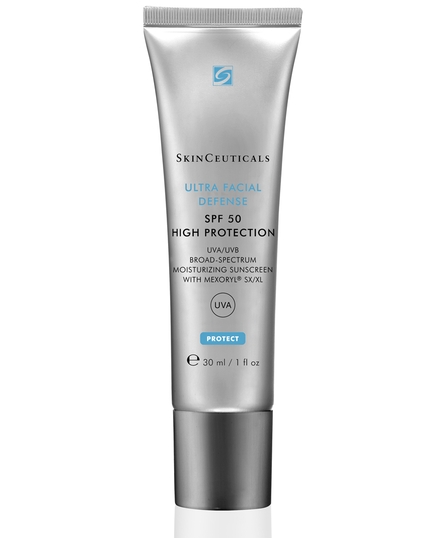 Evening routine:
1. Gentle Cleanser
2. Equalizing Toner
3. Phyto Corrective Serum (€58.50) – apply a few drops to face at night after cleansing and toning.
This serum was another stand-out product in the collection for me, it's perfect for sensitive skin and as it is enriched with botanical extracts it's a great soothing, calming product.
4. Eye Cream
5. Daily Moisture Night Cream – apply at night.
I loved this moisturiser and I've continued to use it at night as I feel it's had a great effect on my pores. It's a pore-minimising product that helps to heal and protect skin as well as moisturising and nourishing. I really liked the light texture of the cream and it was never too-oily.
For more information about Skinceuticals and to see what products might work for you personally, visit www.skinceuticals.com
Sinead Brennan